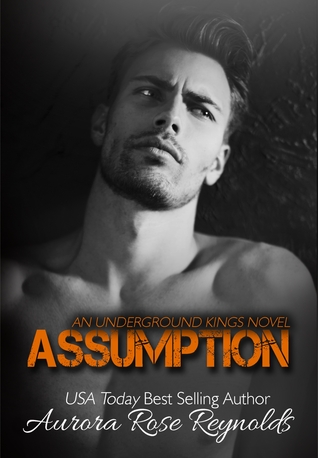 Title: Assumption
Series: Underground Kings #1
Author: Aurora Rose Reynolds
Release Date: August 23, 2014
Rating: 3.5 stars
Cliffhanger: No
as·sump·tion: a thing that is accepted as true or as certain to happen, without proof

They say when you assume that you make an ass out of you and me. Kenton Mayson learned this lesson firsthand when he made assumptions about Autumn Freeman and the kind of woman she is based on what little information he had. What he finds out is she's not only beautiful, but also smart, funny, a fighter, and exactly the kind of woman he wants to share his life with. Autumn made assumptions of her own about Kenton, and now he needs to prove her wrong in order to protect her and their future.
If you're looking for a quick read with a strong alpha hero and a few laughs, you've come to the right place. If you're looking for a book with lots of surprises and unpredictability...not so much. In typical ARR style, this new Underground Kings series begins with (no surprise) an alpha hero who is hot, controlling and possessive, and yes, is an ass on more than one occasion. I actually liked Kenton a lot. He's one of those play-by-your-own-rules types of guys. He takes justice into his own hands, and if he wants something, well, he just takes it.

The heroine Autumn wasn't bad either. She was independent and opinionated, which you pretty much have to be if you hook up with anyone in the Mayson family. She had a little wild side to her as well if you made her angry and if you did, you'd better look out! There was one scene with her and one of Kenton's exes that had me laughing out loud at her temerity. She really has some lady balls-she does not put up with disrespect.




As we're told in the lead-in in Until Nico, Autumn is the witness of a murder in the strip club where she works. The hit man is MIA and she is sent to Kenton for a temporary place to stay and protection. Kenton is an under the radar kind of guy who handles various security and bounty hunter types of things. But if you expect him to do things by the books, you'd be wrong. When they meet at the airport there's an instant attraction, but Kenton makes his first bonehead move: prejudging her based on her strip club job. What he doesn't know is that she's also a nurse and just biding her time until she can pay the bills with her real career. She doesn't take too kindly to his Assumptions and they begin their dance of attraction and avoidance.

Kenton quickly finds that he's ready to try to win Autumn over. She's sassy, intelligent, and in the weeks they've been living together their lust for each other has only multiplied. He's determined to make her see things his way.




She's not what I expected. She's not what I wanted, but fuck me if she's not what I need.

"I know you've been hurt." I close my eyes, turning my face away from him. "I know you don't want to hear it, but I won't stop until I have you."

Once he finally informs her she's going out with him convinces her to go on a date with him, all bets are off. The sexual tension that's been sizzling under the surface is getting ready to blow up. They had some great chemistry and I enjoyed their sexy times.




While the hit man/mob conflict added some necessary drama to the plot, there weren't really any surprises there for me. I wish I could have been left guessing a little bit more but maybe that's just me. As common with other ARR books, the pace and action really picked up in the last 25%, family and past characters are very involved, and the epilogue ties everything together nicely. While I didn't love this one, I can't say I didn't enjoy it. ARR has a way of making her books so addictive. The hero was perfectly alpha and though he had some bonehead moments, he made up for them and protected her with his life. I also thought that the heroine was decent. She wasn't a pushover, she spoke her mind, and though she was stubborn at times, she was a likable and relatable girl. Kai's story is next up in the series and I am sufficiently curious enough to check it out.


**ARC provided for blog tour in exchange for an honest review.**
FOLLOW SMOKIN HOT BOOK BLOG ON:


["br"]>["br"]>["br"]>["br"]>["br"]>["br"]>["br"]>["br"]>["br"]>["br"]>["br"]>["br"]>["br"]>["br"]>["br"]>["br"]>["br"]>["br"]>["br"]>["br"]>["br"]>["br"]>["br"]>["br"]>["br"]>["br"]>["br"]>["br"]>["br"]>["br"]>["br"]>["br"]>["br"]>["br"]>["br"]>["br"]>["br"]>["br"]>["br"]>["br"]>["br"]>["br"]>["br"]>["br"]>["br"]>["br"]>

View all my reviews





Additional books by Aurora Rose Reynolds

The entire Until series is available in one boxed set






Until Series (Individually)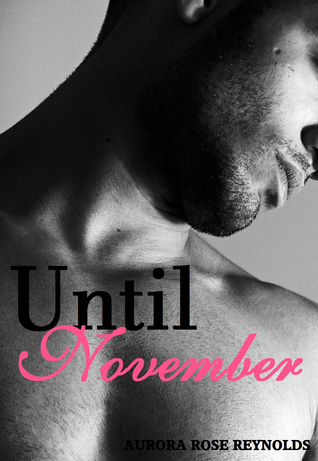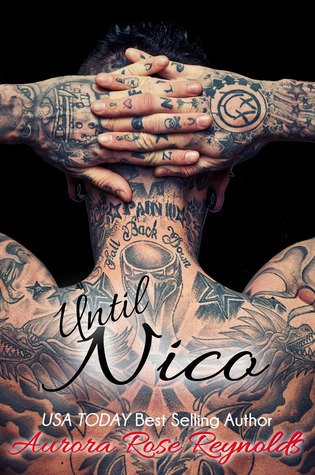 Aurora Rose Reynolds is a navy brat who's husband served in the United States Navy. She has lived all over the country but now resides in New York City with her Husband and pet fish. She's married to an alpha male that loves her as much as the men in her books love their women. He gives her over the top inspiration everyday. In her free time she reads, writes and enjoys going to the movies with her husband and cookie. She also enjoys taking mini weekend vacations to nowhere, or spends time at home with friends and family. Last but not least she appreciates everyday and admires it's beauty.






a Rafflecopter giveaway