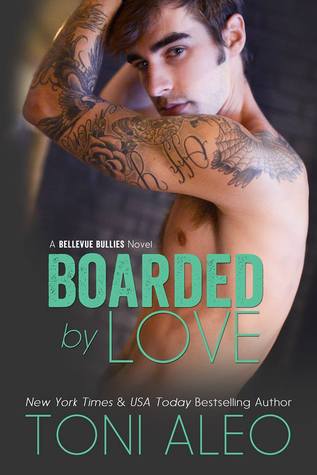 Title:Boarded by Love
Series: Bellevue Bullies #1
Author: Toni Aleo
Release Date: September 6, 2014
Rating:3 stars
Cliffhanger: No
Jude Sinclair here, hockey player for the Bellevue Bullies and lover of all ladies. Hockey's in my blood, and not to sound full of myself, but I'm good at it…really good. The draft is within my reach—it's mine to take—but that's not the only reason people know my name. They know me because of my way with women. They know the score, and I aim to please. I just tend to stay away from repeat performances. In other words, I don't do relationships beyond my family and friends. I'm happy with life. However, I should warn you that my story and how I see it playing out is about to change due to a certain redhead on campus.

She's beautiful. Stunning. Breathtaking.

She's my game changer.

~*~

He's trouble from the moment I see him. I don't know what I'm thinking, but from the moment I meet his gaze, I'm his. It's a scary feeling.

I've never trusted anyone outside my aunt and uncle—and even that took months. I didn't have it easy growing up. My mom was usually strung out, and she didn't give me a second thought. Drugs and the men who paid her were more important to her. It was horrible, but I'm stronger today. Because of my past, security is what I need most. Money assures me that I can take care of myself today, tomorrow, and next month. I don't want to ever be hungry or go without again, so I work hard for every penny.

Oh, by the way, I'm Claire Anderson. I'm a hard-studying sophomore at the University of Bellevue, dancer for the school dance team, and a burlesque dancer at a club, but that's my secret. You may think you know how our story ends, but you have no clue. It's not easy falling in love… or living happily ever after. At first it may seem so, but when is anything worth having ever won without a fight?

Especially when you're boarded by love.
I'm fairly new to Toni Aleo's books, but there's no doubt that she's a talent in romance. She has a lot of loyal fans. Her Assassins series is especially loved so this new foray into sports romance (this time in the New Adult sub genre) I felt was worth a shot. Unfortunately, this particular book wasn't all that I had hoped it would be. There were too many things that I don't care to see in New Adult-but this is at a personal level, I understand that not everyone is going to feel the way I do. But for me, I struggled between a 2 and 3 rating.

Claire had a rough childhood growing up. Her mother was a drug addicted stripper who neglected her and brought numerous sleaze ball guys around who hit on her. This led to a lot of screwed up years where she allowed men to use her because she didn't have any self-worth. I felt that her background was strong and immediately turned my sympathies toward her. After her Uncle took over her care, she slowly started having faith, hope, and an outlet through dance. (This is all in the previous series' book 5)




My favorite thing about this book was the fact that the heroine was a talented dancer and choreographer. There aren't enough books about dancers-I love to read about them but I don't come across them as often as I'd like.




Jude is the campus star athlete/manwhore. New concept, right? Jude is where some of my issues lie. I knew ahead of time what his personality was going to be after reading the synopsis. So maybe it's my own dang fault for still reading it. It's just that sometimes, it's done in a way that I can handle.
Why...
WHY..
WHY!...
must the star athlete in 98% of NA be a raging manwhore every time? He can still be the "bad boy" without being a conceited slut. And as soon as he sets his sight on the heroine, he's a changed man and won't look at another girl? I'm just so done with that setup. I need a more gradual and natural progression in the relationship. I need to see their feelings built on more than insta-lust which leads immediately after to insta-love. All Jude can talk about is how in love he is with her luscious booty and how hot she is. I liked how crazy he was about her, but I wish it would have felt more real to me.




Another thing that bothered me was the way Jude and Claire talked/acted around each other. The author was going for cute and sweet but the sweetness bled into sickly sweet at times. It was too much. It was like 15 year olds on the phone..."You hang up." "No, you hang up." "No, you..."

"Are you annoyed?" My mouth turns up at the side as I slowly shake my head. "I can't be annoyed when I'm looking at you."

Or their texting:

Hey Jude: btw...I miss you
Claire: btw...I miss u way, way more.
Hey Jude: I doubt that.




Grrr.

And one last thing I have to mention-I was baffled to say the least. This is the weirdest simile I've ever heard in a book...

I know she feels every inch of me and I'm going to make her wetter than a pool in a second, but first I need to nip this in the bud.




Wha-???? That does not provoke sexy thoughts. Moving on...

Ok, so the main conflicts are Claire and Jude having to fight for their relationship because the entire school population has doomed them to fail because of his past with women.

Her inability to be honest with Jude through the whole book about her burlesque dancing for fear of him not understanding it's based on her need for security.

And Phillip's distrust of Jude and his refusal to give him a chance.

Of all the conflicts, I actually enjoyed the last one a lot. I loved how overprotective he was with Claire and it made me laugh so many times how he was like a grumpy bear around them. I expected him to get out a shotgun and threaten Jude with it at any time. And I LOVED the end when he and Jude get in their final argument about it. It was pure awesome!

While there was a lot of things that bothered me, I still thought there were plenty of funny moments. I just wish that there could have been a more unique character in Jude like there was in Claire. I thought they were very sweet with each other, but a lot of times, the sweetness went into overload and was a bit much for me. Their chemistry was great from the very beginning so that was one thing I thought was well done. While this one wasn't an enthusiastic winner for me, I would still read more from this author. But in this case, I felt like I needed a little bit more.


FOLLOW SMOKIN HOT BOOK BLOG ON:





["br"]>["br"]>["br"]>["br"]>["br"]>["br"]>["br"]>["br"]>["br"]>["br"]>["br"]>["br"]>["br"]>["br"]>["br"]>["br"]>["br"]>["br"]>["br"]>["br"]>["br"]>["br"]>["br"]>["br"]>["br"]>["br"]>["br"]>["br"]>["br"]>["br"]>["br"]>["br"]>["br"]>["br"]>["br"]>["br"]>["br"]>["br"]>["br"]>["br"]>["br"]>["br"]>["br"]>["br"]>["br"]>["br"]>["br"]>["br"]>["br"]>["br"]>["br"]>["br"]>["br"]>["br"]>["br"]>["br"]>["br"]>["br"]>["br"]>["br"]>["br"]>["br"]>["br"]>["br"]>["br"]>["br"]>["br"]>["br"]>["br"]>["br"]>["br"]>["br"]>["br"]>

View all my reviews