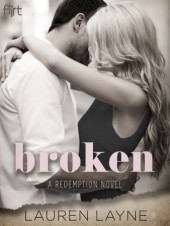 Title: Broken
Series: Redemption #1
Author: Lauren Layne
Release Date: September 2, 2014
Rating: 4. 5 stars
Lauren Layne's New Adult novel tells the story of a girl with secrets, a guy with scars, and a love that could save them both... or destroy them.
When Olivia Middleton abandons the glamour of Park Avenue for a remote, coastal town in Maine, everyone assumes she's being the kind do-gooder she's always been. But Olivia has a secret: helping an injured war veteran reenter society isn't about charity—it's about penance. Only, Olivia's client isn't the grateful elderly man she's expecting. Instead, he's a brooding twenty-four-year-old who has no intention of being Olivia's path to redemption . . . and whose smoldering gaze and forbidden touch might be her undoing.
Paul Langdon doesn't need a mirror to show him he's no longer the hotshot quarterback he was before the war. He knows he's ugly—inside and out. He'll do anything to stay in self-imposed exile, even accept his father's ultimatum that Paul tolerate the newest caretaker for three months or lose his inheritance. But Paul doesn't count on the beautiful twenty-two-year-old who makes him long for things that he can never have. And the more she slips past his defenses, the more keeping his distance is impossible.
Now Paul and Olivia have to decide: Will they help each other heal? Or are they forever broken?
Broken is another sweet, cute and totally off the charts hot read written by Lauren Layne. Just like in Isn't She Lovely, Lauren delivered fabulous new adult read that consumed me from the beginning. I flew through this story quickly: only pausing for a minute or two when emotions started to overwhelm me or when I couldn't stop laughing at the crazy, witty banter between two main characters. I simply adored how easily this story seemed to flow, chapter after chapter, I was filled with all this fuzzy, warm feelings that just would not let me go. My face hurt from smiling so much.
Oliva is Ethan's ex-girlfriend. We met her in Isn't She Lovely as this horrible girl who cheated on her boyfriend with his best friend… After that she wanted to go away for a while, where nobody (especially Michael) could bother her and make her remember what she's done.
"I had two best friends in the world, and I managed to treat both of them like garbage: Ethan by betraying him, Michael by walking away."
That's how this beautiful, spoiled princess got a job as a caretaker of war veteran named Paul. Surprisingly, the man she is supposed to care for is not old, immobile man. Her employer is only two years older than her and definitely able to move around. He also has many physical and mental issues; not only his leg isn't in very good shape, one side of his face is scarred and his soul is broken.
Paul, rough around the edges and complete asshole, blackmailed by his father agreed to let Olivia be his "caretaker". It was that or no money.
Now both of them have to learn how to cope with each other and survive three months together.
"It's just so romantic. The beautiful angel swooping in to save the surly dickwad who's quite possibly a murderous recluse."
The introduction to the main heroine made me not sure if I would be able to like Olivia or even tolerate her, but thanks to Lauren Layne's amazing storytelling ways I quickly learned that she is not as bad as I have pictured her. She did redeem herself in my eyes very quickly; which let me relax and start to enjoy myself.
I'm a great fan of love/hate relationships or just those couples who are full of wit and sass. There is nothing better than great sexual chemistry mixed with funny banter and silly situations; Broken was full of that, so instantly I've fallen in love with this story.
"You want me?" he asks against my mouth. "You want my hands on you?"
Broken is also filled with laugh out loud moments, quite a few smoldering, sexy times and lots of sexual tension. And while Paul is definitely a jerk, he's loveable too. So, yes I think Lauren Layne has done great job with this story and I highly recommend it to all new adult fans.
***Review copy provided by publisher via Netgalley in exchange for honest review ***
FOLLOW SMOKIN HOT BOOK BLOG ON: