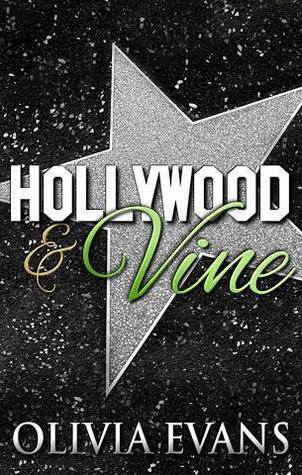 Title: Hollywood and Vine
Author: Olivia Evans
Release Date: December 26, 2014

In the land of Hollywood, bright lights cover lies, truths hide in shadows, and the lives of the rich and famous are illusions created by smoke and mirrors.
When costume designer Josie Bane first lays eyes on Anders Ellis, she hates him instantly. Conceited and arrogant, he's the epitome of a Hollywood playboy. So it's much to Josie's dismay when he becomes the star of her sexual fantasies.
Never expecting to see him again, she gives in to her desires for a night she'll never forget. However, Josie soon learns that life is full of surprises. When their paths cross again, sparks fly. With three little words, Anders changes everything.
He's after one thing.
She refuses to give it to him... again.
When Josie realizes she's falling for a man that will never let her in but refuses to let her go, she must decide if the risk is worth the reward.
With a relationship shrouded in secrets and outside forces poised to tear them apart, did they ever stand a chance? Before the smoke clears and the curtain falls, Josie and Anders must distinguish between what's fact and what's fiction in a place where the truth is never black and white.
"It's my turn." Josie grabbed the remote and hopped off the couch.
"No way, Ivy." Anders shook his head and rose from the couch. "We're not watching that shit."
"You picked what we watched last night. It's my turn."
"Why can't you pick something that's at least useful? Like, I don't know, a cooking show or something. Lord knows you need all the help you can get." Anders scrunched his face as he thought about her recent attempt at cooking. When she said she was a horrible cook, he didn't think it could be that bad. Even he could make something edible. Josie, however, couldn't cook at all and would surely die if ever forced to survive on her own cooking.
"You dick!" She laughed, putting the remote behind her back when he came closer.
"I'm not watching that show. Let's play cards or something."
"I'm never playing cards with you again. You are a cheating cheater who cheats."
"I do not cheat." It was only cheating if he got caught, and even then it was still up for debate if he could talk his way out of it.
"You do cheat. Now, it's my turn, and we're watching what I want." Josie nodded and moved behind the couch, pressing the buttons on the remote until the television came to life.
"You can't be serious. Honey Boo Boo? This has to be the most annoying fucking show on television."
"It's my guilty pleasure. Now shut up and sit down. Chicken Nugget just got a pet chicken."
"What the fuck are you talking about?" Anders looked from the television to Josie with wide eyes and an incredulous expression.
"We can watch the Real Desperate Housewives of Atlanta instead." Josie cocked a brow and sauntered to the couch.
"It can't be worse than this," Anders muttered, falling beside her in defeat.
a Rafflecopter giveaway
Olivia Evans is a dreamer by day, writer by night. She's obsessed with music and loves discovering new bands. Traveling the world and watching the sun set in every time zone sounds like heaven to her. A true Gemini, she follows her heart blindly and lives life to the fullest with her husband, son, and friends. Her other loves are: Chuck Taylors, Doc Martens, concert tees, gangster movies, sports, wine, craft beer and her shih tzu's.