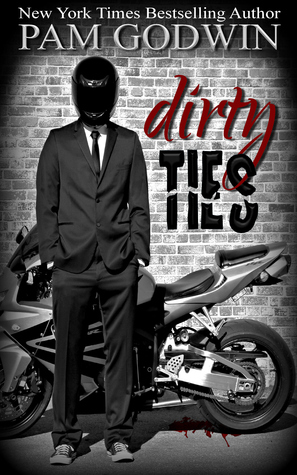 Title:Dirty Ties
Series:Standalone
Author:Pam Godwin
Release Date: January 12, 2015
Rating:5 stars
Cliffhanger: no
Revenge.

I race to finance it.
I evade to protect it.
I kill to attain it.
I planned everything.

Except her.
The alluring, curvaceous blonde at the finish line.
With sapphire eyes that cheat and lie.
Whose powerful family murdered mine.

I hate her.
I want her.

I know she's hiding something.
But so am I.
I have to say, the skill that Pam Godwin wields with her words is so brilliant, I could probably be onboard to read just about any future books, regardless of the premise. She's that good. Not only is the writing first-rate, but the story was laid out in a vivid and fast paced manner. Which made my reading experience virtually boredom free with plenty of red-hot erotic moments to keep any dirty mind satisfied. I'm pretty much in extreme shock that I found another top notch book on the heels of my last 5 star read. That's kind of akin to seeing a unicorn and Big Foot all in the same week, but whatever. I'm just going to roll with it.

If this book doesn't melt your panties and make your heart pound, I don't know what will. This story is about one man's vigilante master plan for revenge and retribution and one woman's attempt to escape her corrupt family's dirty ties. What happens when both of their plans collide, crash, and burn? Neither of them counted on finding comfort in each other's arms. But just one taste leaves them desperate for more.




From the public's viewpoint, Kaci has it all. Wealth, power, a marriage to a devastatingly handsome man from a similar background; everything is right there at her fingertips. What they don't know is that she's entrapped by her corrupt and vicious family in a passionless and lonely marriage to a man who can never give her the type of love she needs. Although she and Collin love each other deeply, it's a love of friendship and respect...Collin is gay. But they're ruled with an iron fist and their marriage is sealed with a contract that forces them to hide their true needs and desires. Kaci longs for true intimacy with a man. She's had hot, raw sex with plenty of men, but never wakes up with his arms holding her. All she has to keep her warm is her relentless fantasies of the unattainable underground racing syndicate's "Evader"




She has no idea that he's had his eye on her just as long. Every race, he searches for her on the outskirts of the crowd. Until he gives into temptation and decides to indulge in a little harmless pleasure with "Miss Ducati". Dear gawd, these two are insanely hot together. Every single interaction between them was explosive and made my heart clench. The angst due to the fact that he eventually sees her as "the enemy" but is unable to stay away from her is so tantalizing.




Logan has conflicted feelings about Kaci. As much as he wants her, knowing she's married and she's a part of the family that took away his mother and his future at the age of 13 kills him. What he witnessed as a young boy changed him forever and filled him with the resolution to destroy those who destroyed him.

That night, my thirteen-year-old dreams morphed from racing in the World Championship Grand Prix to filling Hell with the gutted targets of my revenge.

I'm a sucker for books with revenge and this one was the perfect example of why.

All the secrets, unspoken motivations, and one hell of a betrayal lead you on a high-octane path that will keep you guessing about the outcome. Eventually, this damaged pair must learn to put enough trust in each other to realize their growing feelings aren't going to destroy them. But with her malicious family in the background, who knows who could fall prey to their schemes?

I loved this book. It had every element I need in a 5 star read. It was intense, unique, well developed, and unpredictable with some seriously combustible heat. There was a well-plotted story behind that heat though with characters who I was able to easily connect with. And not a weak heroine in sight. Thank God. If you don't have this on your to-read pile, I have one question: What are you waiting for?


FOLLOW SMOKIN HOT BOOK BLOG ON:


["br"]>["br"]>["br"]>["br"]>["br"]>["br"]>["br"]>["br"]>["br"]>["br"]>["br"]>["br"]>["br"]>["br"]>["br"]>["br"]>["br"]>["br"]>["br"]>["br"]>["br"]>["br"]>["br"]>["br"]>["br"]>["br"]>["br"]>["br"]>["br"]>["br"]>["br"]>["br"]>["br"]>["br"]>["br"]>["br"]>["br"]>["br"]>["br"]>["br"]>["br"]>["br"]>["br"]>["br"]>

View all my reviews