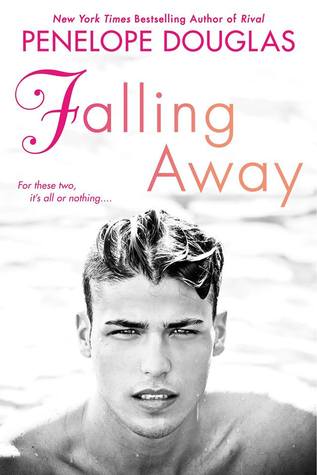 Title: Falling Away
Series: Fall Away #3
Author: Penelope Douglas
Release Date: January 6, 2015
Rating: 4.5 stars
Cliffhanger:. No
Jaxon is the guy she's supposed to avoid.
K.C. is the girl he won't let get away....
K. C. Carter has always followed the rules—until this year, when a mistake leaves her the talk of her college campus and her carefully arranged life comes crashing to a halt. Now she's stuck in her small hometown for the summer to complete her court-ordered community service, and to make matters worse, trouble is living right next door.
Jaxon Trent is the worst kind of temptation and exactly what K.C. was supposed to stay away from in high school. But he never forgot her. She was the one girl who wouldn't give him the time of day and the only one to ever say no. Fate has brought K.C. back into his life—except what he thought was a great twist of luck turns out to be too close for comfort. As the bond between them grows, he discovers that convincing K.C. to get out from her mother's shadow is hard, but revealing the darkest parts of his soul is nearly impossible.…
"I feel like I'm falling,"
"But it feels so good."
Falling Away was definitely on my list of Ten Most Anticipated Releases, so imagine how excited I was when it turned out that I will be able to read it few months earlier. Yes, I admit I may have squealed a bit. I really enjoyed reading Penelope Douglas' previous books and God I just had a feeling Falling Away will be explosive addition to her new adult series. I wasn't mistaken. Jaxon and K.C's story is a dynamite! It's sexy, intense and panty – melting roller coaster. It's everything I love and so much more. I can hardly explain how enthralled I was with it.
The book starts with K.C coming home for summer to do her community service. Yes, K.C did something reckless and ended up arrested. Let's just say, her cheating ass of a boyfriend almost lost his family jewels. So now she will live in Tate's house and tutor kids in her high school.
Two years has passed since she was in her hometown; Two years since she's seen Jaxon Trent and now she would be living next door to him. And boy, did Jax grew up while she was away! Now he just needs to convince K.C to give him a chance.
"Bite me, hit me, scream at me, I don't care. I want to feel it. Fucking hurt me, K.C. Let me see you."
I have to confess, I didn't like K.C; not after what knowing what she's done in Bully. In my opinion she was vain person and not a very good friend to Tate. I thought I had her all figured out. But it turned out that I didn't know a single true thing about her. She hides so many secrets and they are heartbreaking. I was sympathizing with her within few pages; few chapters in I liked her and when I reached the end I was in awe; she was that strong and feisty.
Jax started off as a big jackass. Making K.C feel even worse and I thought I would not be able to like him much, but fortunately I saw him in different light very quickly.
And then I was just trying not to explode from all of the sexual tension this book radiated with. Holy shit, Falling Away was orgasmic! I was so into what was going on between the main characters the book seemed to finish before I was ready to say goodbye to Jax and K.C.
"Only ever you."
The ups and downs of their relationship kept me on my toes till the end. It was amazing to see how both of these characters seemed to grow up and unravel. I liked how Jax and K.C developed during the story. Not only did they have to learn how to deal with their demons but also how to let someone else in. Which was for both of them hard thing to do.
Summing up, Penelope Douglas once again done something beautiful. She wrote explosive, sexy and absolutely engaging story with real, vivid characters, intense plot and out of this world sexual chemistry. I lost myself on pages of this story and will definitely be rereading it in the future.
ARC provided by publisher via NetGalley in exchange for honest review
FOLLOW SMOKIN HOT BOOK BLOG ON: