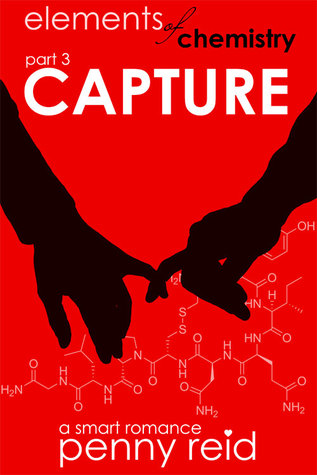 Title:Capture
Series: Elements of Chemistry #3
Author: Penny Reid
Release Date: May 16, 2015
Rating:5++ stars
Cliffhanger: No
There are no words to describe how much I loved this entire series. Penny Reid truly does New Adult proud. These are introspective and lovely. Bursting with emotion. And without a doubt, a prime example of how to do this genre right. It turns me into a bumbling, nonsensical nitwit trying to gather my thoughts to do this particular book justice. (So bear with me while I try to convey all my feels).

My most overpowering emotion right now thinking about the end of Elements of Chemistry:




It breaks my heart that I had to say my final goodbyes to this couple. They were truly addictive, but it was a habit I never wanted to break. I wasn't ready and wouldn't have been even if there had been 10 more books after Capture. It's just one of those stories that I know will hold a piece of my dreamy, hopeless romantic reader's heart for a long time to come.

This part was definitely the most agonizing of all three books. There were so many moments I hurt for both characters and the pain they fought to work through and heal from. As hard as it was, I can honestly say there couldn't have been a better ending to the heartache that life had dragged them through.




It was a journey through self-discovery and self-improvement, but most especially growth. That's what I absolutely LOVED about this book. As much as I equally loved the first two parts, Katy and Martin both had some serious issues that were holding them back from having a hopeful future. To be blunt, they started out as young adults and evolved into healthy, stronger adults that were confident in their own skin. Without this stage in their relationship, I'd still have some lingering doubts about how they were going to make this work. This last piece of the puzzle cemented how perfect of a fit they were together in my eyes.




The raw need and feelings of hopelessness these two feel heightened the angst to extreme levels until I was almost pulling my hair out waiting for their elusive happily ever after. It was incredible and painful all at the same time. But it was all worth it in the end because I came away from the last page glowing and giddy and thinking about every last detail for days. I'm not even kidding, it was so good that immediately after finishing the last word, I flipped back to the beginning so I could re-read all my favorite moments. They had me goofy grinning, anxious, thrilled...my emotions were out of control in the best way.




I can't say a whole lot more about the plot without spoiling the whole experience. You need to enter into these fairly blindly to experience all the highs and lows Penny gives us in these books. If you've been questioning whether or not to read this series, do yourself a big favor and jump on these the minute they're released, they'll take you through a beautiful, touching, and enduring story that makes you feel their heartache and exhilaration down to your bones.


FOLLOW SMOKIN HOT BOOK BLOG ON:


["br"]>["br"]>["br"]>["br"]>["br"]>["br"]>["br"]>["br"]>["br"]>["br"]>["br"]>["br"]>["br"]>["br"]>["br"]>["br"]>["br"]>["br"]>["br"]>["br"]>["br"]>["br"]>["br"]>["br"]>["br"]>["br"]>["br"]>["br"]>["br"]>["br"]>["br"]>["br"]>["br"]>["br"]>["br"]>["br"]>["br"]>["br"]>["br"]>["br"]>

View all my reviews