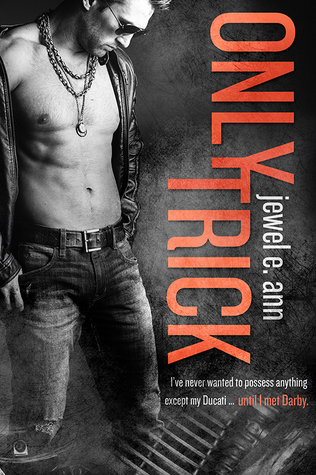 Title:Only Trick
Series: Standalone
Author: Jewel E. Ann
Release Date: April 13, 2015
Rating:4.5 stars
Cliffhanger: no
"Don't Look Back in Anger"

In one night, I lost five years of my life. Here's what I know …

I was homeless.

I'm a recovering drug addict.

My inked skin crawls from lustful eyes.

I have a serious aversion to women.

My gay partner is a home wrecker.

I own a gun and I'm a damn good shot.

I'm a makeup artist, but it's an insult to my talent.

I've never wanted to possess anything except my Ducati … until I met Darby.

Now here's what I know since that day in the ER when she pieced me back together … nothing—but a few random thoughts.

My new "friend" is distracting, clingy, and obsessed with acronyms, emojis, and phrases like "breakfast soul mates."

I didn't want to like her, but she crawled under my skin and swallowed me whole. Now we're best friends and she's my new addiction. I'd drink her from a shot glass, snort her up my nose, or inject her into my veins if I could. What I won't do … is ever tell her that.

She doesn't know me … I don't know me. When those missing years come back, I think she will hate me … I think I will hate me.

My parents named me Patrick Roth, and this is my story.
This is not my first Jewel E. Ann book, but this was a quite a pleasant surprise. I went into this hopeful, but trying not to let my expectations run away with me. After reading Holding You, I saw a whole lot of talent in the storytelling, but unfortunately the story itself I didn't end up loving. What I liked about this author in the past was here: intriguing and engaging characters that were well developed. And a fantastic, witty humor transfused throughout the book that gave me one big, perpetual smile. Let me tell you, this book had its intense moments, but the heroine's playful levity balanced everything out to make a nicely fine tuned and well rounded book.

I enjoyed this sassy heroine so much! Darby is a girl whose life is stuck in a rut. She's a physician's assistant in the ER who loves her job but continues to get all of the most cringeworthy and undesirable cases. She takes a lot of crap from a lot of people and it's beginning to wear on her.




Even in the adult world, bullies pop balloons. If I were a guy, I'd be grabbing my crotch looking for my balls. Yep, they're still there, shoe marks and all.

Her family is snobby at best and emotionally abusive at worst. Her father is a politician whose only tender side is the one presented in public to impress the media. Her boyfriend is an egotistical tool who likes to refer to himself in the third person during sex.




So she has all of that to be bitter about. (She's not) What she actually is, is funny. Her inner dialogue in the first chapter alone made me a very happy woman; I couldn't stop chuckling. When she comes face to face with Trick in an exam room, every bit of her sense and her ability to speak evaporates. She's completely stunned by his male beauty and intimidated my his fuck off vibes. I really felt for the poor girl. Though she's instantly exploding in lust, panting after him like a dog in heat, he appears to want nothing to do with women.

Trick is gay.

She comes to find out that it's almost a blessing in disguise. Almost. They're able to spend some time together as Trick slowly lets his guard down. She finds out that he's a make up artist and he has a shady history that he won't speak of; he's seeped in mystery which only serves to build his intrigue more. The shadows surrounding him leave a very ominous feeling to build and you don't get many answers until the end.




Darcy becomes comfortable around him enough to be herself and let her true personality out. If there's one thing that Trick appreciates, it's honest people, and he hasn't come across anyone quite so straightforward and real as Darby.

"I have a vagina, you know?" Vibrant white teeth peek through his uncontrolled smirk.
"I heard that rumor."
"Can you deal with it?"

One thing that clear about Trick: he's imposing and kind of an asshole, but under all of that, he's vulnerable and trying to protect himself. He was so rude and blunt at times, but I couldn't help loving him. His feelings for Darby grew from exasperation and anger to a bond that's rooted in respect and friendship. He puts up with her silliness and gives her back all the shit she deals to him.

He's a take-me-as-I-am-I don't-give-a-shit guy, stopping on the confidence scale a hair shy of arrogant-aka make-you-beg-for-it-sexy. I've met my match.

I loved these two, they were complete opposites but at the same time, they understood each other implicitly like no one in their lives ever had before. They had much more in common than appeared on the surface. The sexual tension grew and thickened. He was clearly off bounds, but that wasn't stopping Darby from developing feelings for him that could never be returned.




I loved Trick, his dominant personality with a fierce protectiveness and affection for Darcy. He was strong, sexy, and an amazingly talented guy. He was a force to be reckoned with; could she weather the storm? All will be revealed in the end.

I just couldn't give it a full five stars as much as I enjoyed it. The reveal of his past wasn't quite as dark as I was expecting after all of the build up to be honest. But I couldn't find it in myself to rate any lower, I looked past that and the HEA on speed (it was extremely improbable and tied up in a perfect bow). But the fact that I was highlighting the story like crazy and read the book in almost one sitting speaks for itself. This book was a joy and a wild experience all at the same time. If you're looking for a book with originality, a fierce and unorthodox love, Only Trick could be for you. I can't recommend it enough.


FOLLOW SMOKIN HOT BOOK BLOG ON:








["br"]>["br"]>["br"]>["br"]>["br"]>["br"]>["br"]>["br"]>["br"]>["br"]>["br"]>["br"]>["br"]>["br"]>["br"]>["br"]>["br"]>["br"]>["br"]>["br"]>["br"]>["br"]>["br"]>["br"]>["br"]>["br"]>["br"]>["br"]>["br"]>["br"]>["br"]>["br"]>["br"]>["br"]>["br"]>["br"]>["br"]>["br"]>["br"]>["br"]>["br"]>["br"]>["br"]>["br"]>["br"]>["br"]>["br"]>["br"]>["br"]>["br"]>["br"]>["br"]>["br"]>["br"]>["br"]>["br"]>["br"]>["br"]>["br"]>["br"]>["br"]>["br"]>

View all my reviews