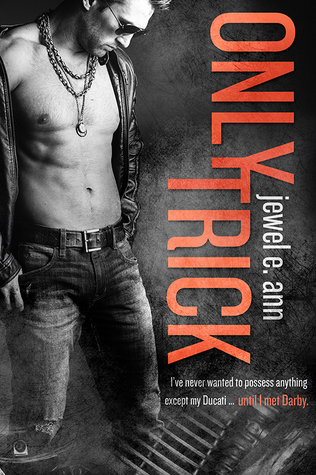 Title: Only Trick
Series: Standalone
Author: Jewel E Ann
Release Date: 13 april , 2015
Rating: 5 stars
Cliffhanger:. No
"Don't Look Back in Anger"
In one night, I lost five years of my life. Here's what I know …
I'm a recovering drug addict.
My inked skin crawls from lustful eyes.
I have a serious aversion to women.
My gay partner is a home wrecker.
I own a gun and I'm a damn good shot.
I'm a makeup artist, but it's an insult to my talent.
I've never wanted to possess anything except my Ducati … until I met Darby.
Now here's what I know since that day in the ER when she pieced me back together … nothing—but a few random thoughts.
My new "friend" is distracting, clingy, and obsessed with acronyms, emojis, and phrases like "breakfast soul mates."
I didn't want to like her, but she crawled under my skin and swallowed me whole. Now we're best friends and she's my new addiction. I'd drink her from a shot glass, snort her up my nose, or inject her into my veins if I could. What I won't do … is ever tell her that.
She doesn't know me … I don't know me. When those missing years come back, I think she will hate me … I think I will hate me.
My parents named me Patrick Roth, and this is my story.
Do you know the feeling when you read a book that takes your breath away and creates all those warm and fuzzy emotions that kind of fill to the brim your soul? That you feel so full and so happy and just… damn, you don't want the feeling to ever go away? It doesn't happen frequently. The Bookworm High is as rare as pink glittery unicorns strolling down the mall (at least in my case).
Frankly, these days no often do I get the chance to read something that would captivate all of me: my heart, my mind and my soul, and that's why I tresure every single book that can make that happen. You just can't imagine how happy I am to finally get another new addition to my special book collection of favorites.
Darby is working in the ER. Saving people's lifes or generally helping them is her passion. She loves everything about her work, as it gives her purpose and makes her feel confident and needed. Even though she comes from money you would never know. Darby is a good person, she's also socially akward, smart-ass, hilarious, clumsy and total nut job! She's the best!
One day, Patrick Roth comes to her ER to get stitches. Immediately the tattoed, hot piece of a man, takes Darby breath away along with few of her brain cells. She tries to hold herself together, as she doesn't want him to see how much she's affected by his hotness. After this one encounter, Darby and Trick meet again, and again. Quickly they become friends and have absolutely weird, yet charming relationship. But Darby craves more than friendship, she wants to win over Trick's heart, but she would settle even for a roll in the hay with him. There is a big obstacle, though. She doesn't have the right 'equipment'. Trick is gay.
"Why I torture myself is beyond me, but I can't stop. Maybe I'm a masochist. Being around Trick and knowing he doesn't want me the way I want him is masturbation without the release."
Trick is as unique male hero as they come. He's a makeup artist, drives a bike, has tattoos all over his body, is gay and despises women in general. He's bad ass alpha. And there is a big part of his life he doesn't remember. After an accident few years before he lost 5 years of memories.
I won't be sharing more. It's better to go into this book blind and just enjoy it. The only thing you have to know is that there is much more to the plot than Darby chasing after gay man.
"I need you to paint my future, write my story in permanent marker, just like the mark you left on my heart the day we met. Your touch is the only thing I feel, your voice the only thing I hear, your face the only thing I see, but your love … your love, my beauty, is the only thing I need."
This story is very sweet, sexy and funny. Great combo if you ask me. Only Trick turned up to be phenomenal read. It made me all gooey inside. If I had to use only one word to describe it I would simply say AWESOME. There is really no point in looking for a better word; the writing, the plot, the characters are just AWESOME. Period.
FOLLOW SMOKIN HOT BOOK BLOG ON: