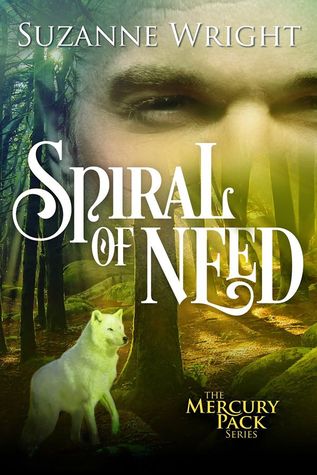 Title: Spiral of Need
Series: (The Mercury Pack #1)
Author: Suzanne Wright
Release Date: September 29, 2015
Rating: 3 stars
Cliffhanger:. No
Ally Marshall isn't just a wolf shifter — she's a Seer.
But a girl doesn't exactly need special powers to know that Derren Hudson despises her entire kind. Disdain practically rolls off the Beta of the Mercury Pack . . . disdain mixed with a healthy dose of desire. And no matter how much the ruggedly handsome male appeals to her, this is one call of the wild she's determined to ignore.
After one betrayal too many, Derren doesn't have much use for Seers — except for Ally.
Forced into acting as her protector, he finds himself intensely and passionately drawn to the woman who incites his primal instinct to claim.
And when enemies target the pack, Ally's gift may be just what the Mercury Pack needs.
Can he put his distrust aside, or will he force himself to turn his back on the one woman who makes his inner beast howl?
[ yes (hide spoiler)]
"I'm keeping you, Ally Marshall." And she'd just have to accept it, because he wouldn't let her go "You're mine."
Suzanne Wright can write about some smokin' hot alphas who can get me all hot and bothered after few pages. That's why most of the time I am in love with paranormal books written by this author. The sex is scorching, the hero possessive yet swoon worthy and the plot is usually complex enough to be entertaining yet without over the top drama. And yes the first book in The Mercury Pack series shares the same qualities. So I guess I should be all over it, yet I didn't feel the connection with this story. I will admit that I was lost through most of this book – I liked it, I found it enjoyable and quick read, but my heart and mind was just somewhere else. I couldn't focus on Ally and Derren.
Something didn't quite sit well with me. I guess it's one of those times when I just doesn't click with the book and there is nothing that could have change it. Maybe it was my poor mood? Or maybe I was just too distracted with other things to connect well with the story and its main characters? However, I strongly believe that fans of Suzanne Wright's novels will appreciate Ally and Derren's romance fully.
"Your scent.... It makes me want to bite you."
I think I will have to give the next installment a better chance. I hope I will be in better mood by then and will be able to appreciate the sexiness of The Mercury Pack men one hundred percent.
FOLLOW SMOKIN HOT BOOK BLOG ON: