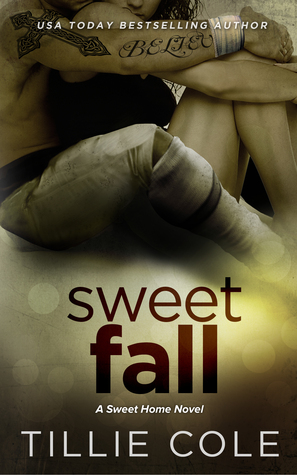 Title: Sweet Fall
Series: Sweet Home #3
Author: Tillie Cole
Release Date: 26 August, 2014
Rating: 4.5 stars


From the USA Today Best Selling Sweet Home Series, comes Sweet Fall; a tale of heartache, beating the odds and finding strength in the most unlikeliest of places.
We all have secrets.
Secrets well buried.
Until we find the one soul who makes the burden of such secrets just that little bit easier to bear.
Lexington "Lexi" Hart is a senior at the University of Alabama. Surrounded by her best friends, her loving family and having fulfilled her life-long dream of making the Crimson Tide cheer squad, everything is going exactly as she always dreamed it would. But beneath her happy exterior, demons lurk, threatening to jeopardize everything Lexi has worked to achieve. When events in her life become too much to cope with, Lexi finds herself spiraling down into the realm of her biggest fear. Lexi falls hard, victim once again to the only thing that can destroy her and, on the way, finds herself falling straight into the dangerous tattooed arms of a guy from the wrong side of the tracks.
Austin Carillo, starting Wide Receiver for the Alabama Crimson Tide, must get picked in this year's NFL draft. He needs it. His brothers need it. Most importantly, his mother desperately needs it. Brought up in a world where the poor are forgotten, the sick are left to fend for themselves and no hero miraculously appears to pull you out of hell, Austin had no other choice but to make a living on the wrong side of the law—until football offered Austin the break to get his life back on track. But when a family tragedy drags him back into the clutches of the gang he believed he had left far behind, Austin finds himself falling. Falling back into criminal ways and falling deep into a suffocating darkness. Until a troubled yet kindred spirit stumbles across his path, where Austin quickly finds he is falling for a young woman, a young woman who might just have the power to save him from his worst enemy: himself.
Can two troubled souls find a lasting peace together? Or will they finally succumb to the demons threatening to destroy them?
New Adult/Contemporary Romance novel—contains adult content, sexual situations and mature topics. Suited for ages 18 and up.
[ Yes (hide spoiler)]
Sweet Fall is powerful experience; it's gritty and raw and so true. It's incredibly painful read, full of angst, sorrow and agonizing loneliness. Reading it is bitter sweet. The story behind our two main characters will make your heart clench and hurt; the angst, the pain, all the emotions that Tillie Cole's perfectly captured will make you hangover for weeks.
"We were both just too messed up to ever be with each other in the way we needed to be. Two shooting stars that burned out too quickly, never quite reaching each other's skies."
Lexi is faking everything in her life. Her happiness, her good health, being strong. Behind the dark make up and black dyed hair, she's scared, fragile and broken. With her friends she chooses to wear a mask of the happy girl she was once, but when she's alone… she's ugly and sad. She's suffering from disorder that slowly eats her alive. And although she's dealing with her anorexia with the help of her parents and doctor, no one else knows how she sees herself in the mirror.
After few years of not cheering, she decides it's finally time to go back to doing something she loves so much. Even if it means, she has to deal with people looking at her… 'fat' body.
Austin is a wide receiver for Crimson Tide's football team. He's doing everything he can to make it to NFL and help his family. Thanks to Rome and his brother - Axel, he had opportunity to leave Heighters, the gang he was in. But now that his mother is even worse than before, and his brothers are dealing coke on his campus, he's really damn close to being expelled…
That's when he meets Lexi, dark little pixie in not the best circumstances, things seem to get even more complicated.
"I have fallen in love with you. The broken boy who has only ever known trouble and strife. Yet the broken boy who managed to put this broken girl back together, at least for a while."
Sweet Fall is written in dual point of view, and thank god for that! Seeing both Lexi and Austin completely bare before me, with all their heartbreaking secrets was something that really moved me. The effect wouldn't be the same if that was not the case. Being able to sneak a peek into their souls… hurt. I won't be sugar-coating; what both of them had to live through is not a walk in the park. It's horrible and gut-wrenching. And every reader needs to be ready for lots of emotional moments and very high level of angst. The fluffy kind of love we got in Sweet Home doesn't exist in Lexi and Austin's novel. They are too broken, too scared to have an easy relationship.
There were moments when I felt mentally overwhelmed; especially when Lexi's issues started showing its ugly head. I've been very uncomfortable then. Seeing her starving herself was just too much sometimes. I felt like someone was cutting my heart into pieces. I was mad at her for acting so stupid, though I knew that she was doing her best. She was a fighter and I admired her for that, but sometimes… ugh, I just felt so overcame with it.
Austin was great, strong character who also made quite some mistakes along the way. I adored him, I really did, but I also found him rough around the edges and standoffish. Which I guess made him more appealing, as he was very real, not-so-perfect hero. There were situations when my heart was bleeding for him, so so much. I was on the verge of tears more times I could count.
Sweet Fall is nothing like the previous book in this series, we all fell in love with, Austin and Lexi will quickly make you forget about Rome and Molly. Their story is just too laud, too captivating to be able to think about something else. It's dark and real and it hurts to read it, but it's worth it!
ARC kindly provided by the author, Tillie Cole, in exchange for an honest review
Three hours later, and we'd won. Carillo had scored three touchdowns and the Tide took the W from the Mocs—the perfect season opener.
Within minutes, the crowd began to filter out of the stadium and the cheer squad ran back into the tunnel, high off the win.
Trailing at the rear, just taking in the scene, I was left alone. It was strange to see the stadium so quiet, kinda apocalyptic, like the aftermath of some great catastrophic event. Plastic red Solo cups were scattered in the stands, confetti strewn on the grass, and the thick stench of stale beer clung to the humid air.
"Kinda weird, huh?" a deep Bama-accented voice said from beside me. Dropping my poms in shock, I laid a hand on my chest. Catching a flash of a Crimson shirt, I looked up, blocking the blinding sun from my eyes with my hand, and suddenly lost my breath.
"S-sorry, what?" I asked in a quiet voice, tipping my neck right back to be able to see the guy's face. When shade hit, he appeared. Austin Carillo, wide receiver, number eighty-three. Carillo stepped closer to me from his secluded spot beside the players' tunnel and the stands.
"This. The quiet after the storm." He gestured to the empty stadium with a wave of his hand. "It's my favorite part of the game."
I followed the action of his hand. "Not the three touchdowns you scored?"
The corners of his mouth hooked up in a reluctant smirk. I'd seen Carillo around campus from time to time over the past three years, and I think it was the first time I'd ever seen him crack anything close to a smile. I wasn't surprised. He was like me—darker, quieter, kept to himself. Austin Carillo was the Italian bad boy of UA: six-foot-four, beautifully olive skin, piercings galore, black ear gauges, neck-to-toe tattoos, dark hair and the darkest of brown eyes. I felt myself blush. If I had a type, he'd be it. But I didn't date, and from what I'd heard, neither did he.
"Nah. It's this. The replay of the game in my mind, the making of memories on this field." A sense of peace floated over me at what he described.
"I know exactly what you mean," I replied wistfully and inhaled the smell of greasy food, churned-up grass… victory. Austin glanced back to the tunnel and, without another word, began to saunter away. I stared back out onto the gridiron and sighed in relief… I'd done it. I'd actually made it through a game unscathed. The voice within hadn't had the strength to spoil it.
"It's about fuckin' time, by the way!" I suddenly heard and looked behind me, straight at Carillo.
"Are you talking to me?" I asked in confusion, checking around us to see if anyone else was here. Austin smirked in a deliciously dark way and gestured to my hair and face.
"Yeah, I'm talking to you. It's about time a pompom chick 'round here broke the mold. It's good to have another one of us freaks on this team."
One of us freaks? I thought, but all I could do was watch him disappear into the locker rooms. My heart pounded in my chest, and lifting my hand, I ran my fingers over my black hair and lipstick, and I felt a flutter in my chest… one of us freaks…
Seeing the cleanup crew enter the stadium, I quickly bent down, plucked a piece of grass from the field, and held up the single blade. It was my tradition. A piece of memorabilia from every game I'd ever cheered… But this would be my first in four years.
The symbol of my new life.
a Rafflecopter giveaway
Tillie Cole is a Northern girl through and through. She originates from a place called Teesside on that little but awesomely sunny (okay I exaggerate) Isle called Great Britain. She was brought up surrounded by her English rose mother -- a farmer's daughter, her crazy Scottish father, a savagely sarcastic sister and a multitude of rescue animals and horses.
FOLLOW SMOKIN HOT BOOK BLOG ON: