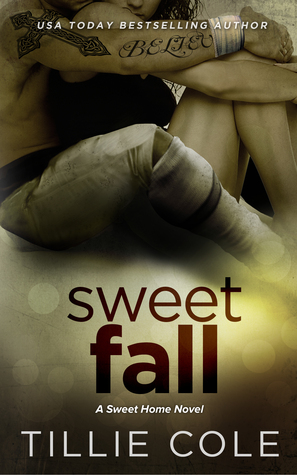 Title: Sweet Fall
Series: Sweet Home #3
Author: Tillie Cole
Release Date: August 26, 2014
Rating:4 stars
Cliffhanger: No
We all have secrets.

Secrets well buried.

Until we find the one soul who makes the burden of such secrets just that little bit easier to bear.
Lexington "Lexi" Hart is a senior at the University of Alabama. Surrounded by her best friends, her loving family and having fulfilled her life-long dream of making the Crimson Tide cheer squad, everything is going exactly as she always dreamed it would. But beneath her happy exterior, demons lurk, threatening to jeopardize everything Lexi has worked to achieve. When events in her life become too much to cope with, Lexi finds herself spiraling down into the realm of her biggest fear. Lexi falls hard, victim once again to the only thing that can destroy her and, on the way, finds herself falling straight into the dangerous tattooed arms of a guy from the wrong side of the tracks.
Austin Carillo, starting Wide Receiver for the Alabama Crimson Tide, must get picked in this year's NFL draft. He needs it. His brothers need it. Most importantly, his mother desperately needs it. Brought up in a world where the poor are forgotten, the sick are left to fend for themselves and no hero miraculously appears to pull you out of hell, Austin had no other choice but to make a living on the wrong side of the law—until football offered Austin the break to get his life back on track. But when a family tragedy drags him back into the clutches of the gang he believed he had left far behind, Austin finds himself falling. Falling back into criminal ways and falling deep into a suffocating darkness. Until a troubled yet kindred spirit stumbles across his path, where Austin quickly finds he is falling for a young woman, a young woman who might just have the power to save him from his worst enemy: himself.
Can two troubled souls find a lasting peace together? Or will they finally succumb to the demons threatening to destroy them?
*Although these are college aged characters, they are in the contemporary romance genre.
Sweet Fall is darker than what I was expecting. Sweet Home was...sweet. It was a feel good book about a romantic College romance with a star athlete and an intellectual girl who didn't really fit in. So it came as a surprise how different this book turned out to be. This book is about the outcasts. One because of where he was born, the other because of a disease that eats away at her mind. This isn't a fluff filled New Adult story filled with hooking up, flirting, and meaningless conflicts. This book is raw, real, and contains serious life issues. It isn't always pretty, and it's characters don't always do what society deems right. Sometimes choices are taken from you. Sometimes life takes you places you never want to visit again. Sometimes you fall.

Lexi puts on a dark mask. Literally.



She uses it to cover up all the hurt, everything she wants to hide from the world. She's just been deemed "recovered" from Anorexia. A disease that ripped her life apart and changed her forever. She escaped with her life despite the voice nagging her in her mind that she's not enough. That voice that continues to taunt her no matter how much she tries to ignore it. That same voice that took her best friend away, and she's not sure she can avoid the same fate.




She's not your typical cheerleader...she has the whole goth painted face and wears all black. She seems scary on the outside, but on the inside, she's very breakable and very alone.

She seemed so small. Seemed so fragile. Like the littlest thing could destroy her.

Austin was a hardcore, edgy guy who's whole life has only experienced hardship and scorn. His mother is the only positive thing in his life and she's slipping away from him through a disease that he and his brothers can't afford to fight. He grew up in poverty, falling into gang life, but managed to escape through his talent in football. But the taint never went away. He'll always be the guy who can't be trusted. To stay far away from. Lexi and Austin get tangled up in the worst possible way-she's a witness to his brother's crime on campus and she's the one person who could crush his entire future.

They begin with fear, hate, and intimidation.




He hated me, and I feared him. But I did care. I cared so deeply that he'd seen the real me. The girl who didn't measure up. The girl with too many flaws.

But neither can deny that they see likeness in each other's eyes. They see understanding. But most of all, they see acceptance. Something that they both need like air to breathe.

Ain't no one ever looked upon me with such grace, with such trust before, and I felt humbled that she chose to gift it to me.

They have to meet in secret. Being publicly together could end in disaster. Dangerous. So they are each other's secret place of comfort. They can unload their burdens on each other and for the first time, feel free to be their true selves.




When Austin tries to push Lexi away and protect her from the choices that he's being forced to make, they both lose their grip and their security. This book was difficult to read in parts because of what this couple has to live through. Lexi is overcome with doubts, crippling insecurities, and her small shoulders are heavy with the weight of it all. Austin is living through the hell of seeing his mother suffer and the having to choose between his entire future or doing things, things he never wanted to be a part of again and ease her pain. The last section of the book is tense and difficult-I was really hurting for these two broken souls.




The one thing that bothered me was the scene where Lexi's father accepts Austin based on reading Lexi's diary and seeing how deeply she feels about him. I'm sorry, I didn't see that ever happening. He accepts him solely based on the fact that he made her happy? Even though he's covered in tats and piercings from head to toe, has dealings with a gang, and the absolute worse reputation? And he knows exactly what he's been doing in that gang? As a parent, I can tell you, it wouldn't be that easy to accept him for my daughter, no matter what the circumstances.

This book was much more than I was expecting to get. It was bravely written by the author about a topic that is very much a part of her and that honesty can be seen shining through the story. This disease is a true battle every day and I can't imagine living and struggling with it. If you want to read a book that will hit your heart and make you feel, look no further. It's a great story of healing and redemption and acceptance. It's not an easy love story but a story that's gritty and genuine. Another great read by Tillie Cole.

**ARC provided for blog tour in exchange for an honest review**



FOLLOW SMOKIN HOT BOOK BLOG ON:


</["br"]></["br"]></["br"]></["br"]></["br"]></["br"]></["br"]></["br"]></["br"]></["br"]></["br"]></["br"]></["br"]></["br"]></["br"]></["br"]></["br"]></["br"]></["br"]></["br"]></["br"]></["br"]></["br"]></["br"]></["br"]></["br"]></["br"]></["br"]></["br"]></["br"]></["br"]></["br"]></["br"]></["br"]></["br"]></["br"]></["br"]></["br"]></["br"]></["br"]></["br"]></["br"]></["br"]></["br"]></["br"]></["br"]></["br"]></["br"]></["br"]></["br"]></["br"]></["br"]></["br"]></["br"]></["br"]></["br"]></["br"]></["br"]>

View all my reviews