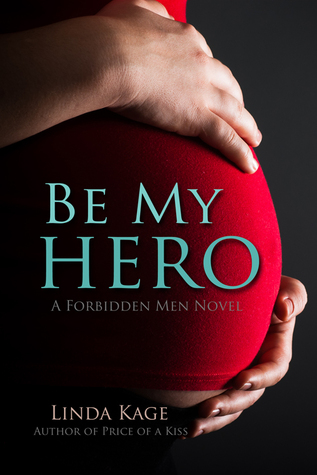 Title: Be My Hero
Series: Forbidden Men #3 (can be read as a standalone)
Author: Linda Kage
Release Date: August 25, 2014
Rating: 5 stars
Once upon a time, there was this pampered rich girl who was kind of full of herself. She really only cared about appearances and hiding all her dark, ugly secrets under the guise of an opinionated snob. But then Eva Mercer got pregnant, shot by a psycho, and kicked out of the only home she knew. Now she's broke, unemployed, and has to start anew with a newborn to raise. But how?
On the other side of town, sexy, tattooed orphan, Patrick Ryan, can't get a break. He's out on parole for defending the last damsel in distress while trying to help her support her child, but all he wants is to find his one true love. He knows this woman by scent, smile, and laugh, but he's never actually met her. He doesn't even know her name. He just knows she's the key to fixing everything.
One kind of hero can save you from physical harm. Another can rescue you from a different kind of doom. To reach their dreams, Eva and Pick can save each other. But first, they must open their hearts and learn how to trust.
[ Yes (hide spoiler)]
From the moment I met Patrick 'Pick' Ryan in To Professor, With Love I knew I would be completely in love with him and his story. How could I not fall for tatted, piereced man with heart of pure gold? But more than that, I have never imagined he would be so beautiful, caring, gentle, giving, good man. Pick completely blew me away. He was the best hero, a girl could ask for. I was hooked from the the moment I finished reading very mysterious and original prologue, that surprised me to the bone. Can't say I expected the plot would go that way, and even though I was a bit hesitant about that concept, this story picked up speed and not very long, I was enjoying it very much.
The story starts with a prologue that show us fourteen year old Pick. A teenage boy, living in foster care and fighting against the bad and ugly of the homes he used to live in. Even then he loved and cared for other people very much; especially for his broken friend, Tristy, who was brutally raped over and over by their foster 'dad'.
When Tristy met Madame LeFrey that foretold her future and told her she will die alone and miserable, Tristy decided to end her life. Pick immediately wanted to hurt the old witch for that. But when he met Madame LeFrey something unexpected, unbelieveable happened. He got to see flashes of his future. A very happy, good future. He saw his soul mate, Tinker Bell and their home and children. He got his hope back.
"I gave you a glimpse."
"You gave me a what? What the hell is a glimpse? What does it mean?"
"Mean?" She cocked her head as if confused by the question. "Maybe nothing. Maybe everything. It shows you what your life would look like if you lived it to your heart's content."
Ten years passed, but Pick never got to meet his Tinker Bell. Then the same day he decided to help Tristy raise her baby and marry her, to Forbidden, the club he works in, comes in pregnant Eva wearing a t – shirt with Tinker Bell on it. Pick's world crashes. The woman he was supossed to wait for just came into his world.
Eva, is only nineteen year old and pregnant. She has many other horrible issues also. Not only most of the time she's terrible bitch but she hides a skeleton in her closet that no one knows of.
When she meets Pick, the sexy, forbidden, married man, her life doesn't get any easier. The guy she crushes on has a wife and a baby… yet he seems to like her more than he should for their own good.
While Pick and Eva start a friendship, their feelings grow and the hope for better life they both threw away many years before comes back. But can they be together for real?
For those who wonder, there is no cheating in this book :) :)
Be My Hero is absolutely the most swoonworthy, heartwarming and heartfluttering novel I've read in ages; this story was so romantic, so perfect and sweet! This book made me feel so fluffy and content. It did knock my socks off and totally blew my mind. While it was very different from previous books in the series, it was also the sweetest one. The humor, the sassiness, the sex, wonderful characters and amazing storyline, everything was there. The perfect mix of everything I love in Linda Kage's books. The lovers of this series, won't be disappointed!
*Review Copy kindly provided by an author, Linda Kage, in exchange for honest review. Thank you!
*
FOLLOW SMOKIN HOT BOOK BLOG ON: