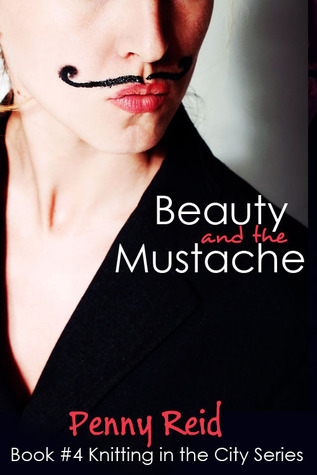 Title: Beauty and the Mustache
Series: Knitting in the City #4
Author: Penny Reid
Release Date: Sometime in the week of August 25, 2014
Rating:4.5 stars
Cliffhanger: No
There are three things you need to know about Ashley Winston: 1) She has six brothers and they all have beards, 2) She is a reader, and 3) She knows how to knit.

Former beauty queen, Ashley Winston's preferred coping strategy is escapism. She escaped her Tennessee small town, loathsome father, and six brothers eight years ago. Now she escapes life daily via her Amazon kindle one-click addiction. However, when a family tragedy forces her to return home, Ashley can't escape the notice of Drew Runous— local Game Warden, bear wrestler, philosopher, and everyone's favorite guy. Drew's irksome philosophizing in particular makes Ashley want to run for the skyscrapers, especially since he can't seem to keep his exasperating opinions— or his soulful poetry, steadfast support, and delightful hands— to himself. Pretty soon the girl who wanted nothing more than the escape of the big city finds she's lost her heart in small town Tennessee.
Drew was beautiful and poetic and raw and real.

The end. Enough said.

Alright...maybe I'll talk about a little more.

When I heard that Drew was a poet I already knew I was going to love him. Add into that, that I have loved every single Penny Reid book I've read and I had zero doubts that I would enjoy this book. Now that I've read the book? I can tell you confidently that I was right. Although this book didn't have the same amount of trademark witty humor in it, it was still there and still gave me the silly grins. This book is a slight departure from Penny's norm because it dealt with more serious topics but I didn't mind that in the least. I felt it only added another layer to her writing and made it that much better in my eyes. Penny has come to be one of my absolute favorite authors because very, very few can match her in her unique stories, characters, and the emotional upheaval she causes with her words. I just can't get enough of her knitting in the city series and every time a new book comes out, I scramble to get my hands on it.

Ashley Winston is returning home to Tennessee with preconceived notions of what her 7 brothers are like. They are the main reason she left home in order to make a better future for herself in the city. They were bullies and troublemakers. She set out to set herself apart from the chaos she was surrounded with in the past.

I'd worked eight years to change and improve myself. I'd become someone new. Someone stronger, armed with knowledge, fierce.

Ashley was a fabulous heroine. She was strong, opinionated, sassy, a book lover (a girl after my own heart), intellectual, and had a sensitive soul. She goes home expecting to find conflict with her brothers and what she really gets knocks her life off it's axis.

Drew is a mysterious close friend of the family who she's never heard a word about before from her mother. He rubs her the wrong way immediately and puts her on the edge. Not to mention his stunningly good looks and his stares that seem to stare right through her. She doesn't quite know what to make of him.

I was hot, flustered, ill prepared or emotionally equipped to interact with fictionally handsome men, staring at me like I was cake, speaking in intimate tones.

Drew keeps showing up every time she turns around and makes it impossible for her to ignore him.




My heart just broke for what Ash discovers. She has a long struggle ahead of her and Drew is there to keep all her broken pieces together. He was absolutely perfect in his support of her. Always giving her what she needed even if she didn't know what that was at the time. He was the calm in her storm and the protector of her heart.




I can't imagine loving a hero more.

Penny introduced a whole new cast of characters in this book. Ash's brothers have all turned their lives around-thanks to Drew. He was the catalyst that pushed them to excel and better themselves. Now, as Ashley builds a relationship with Drew, she's building one with her brothers as well and rediscovering each and every one of them. Their love and protectiveness of her was so sweet to see and it made me want a bunch of bearded rascals as brothers myself.

I swooned, I laughed, I got teary eyed, and melted at Drew's romantic poetry. This book was another big success from Penny Reid!!


"Sugar, I'd be honored to catch you anytime you fall."
FOLLOW SMOKIN HOT BOOK BLOG ON:





["br"]>["br"]>["br"]>["br"]>["br"]>["br"]>["br"]>["br"]>["br"]>["br"]>["br"]>["br"]>["br"]>["br"]>["br"]>["br"]>["br"]>["br"]>["br"]>["br"]>["br"]>["br"]>["br"]>["br"]>["br"]>["br"]>["br"]>["br"]>["br"]>["br"]>["br"]>["br"]>["br"]>["br"]>["br"]>["br"]>["br"]>["br"]>["br"]>["br"]>["br"]>["br"]>["br"]>["br"]>["br"]>["br"]>["br"]>["br"]>["br"]>["br"]>["br"]>["br"]>["br"]>["br"]>["br"]>["br"]>["br"]>

View all my reviews