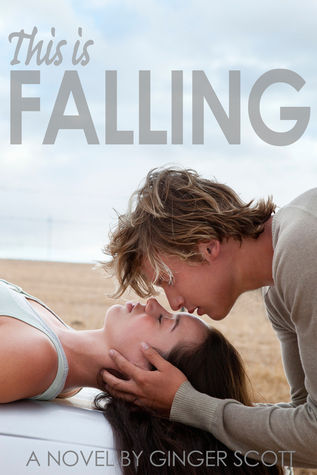 Title: This is Falling
Series: Falling series #1
Author: Ginger Scott
Release Date: August 29, 2014
Rating:5 stars
Cliffhanger: No
First, I had to remember how to breathe. Then, I had to learn how to survive. Two years, three months and sixteen days had passed since I was the Rowe Stanton from before, since tragedy stole my youth and my heart went along with it.

When I left for college, I put a thousand miles between my future and my past. I'd made a choice—I was going to cross back to the other side, to live with the living. I just didn't know how.

And then I met Nate Preeter.

An All-American baseball player, Nate wasn't supposed to notice a ghost-of-a-girl like me. But he did. He shouldn't want to know my name. But he did. And when he learned my secret and saw the scars it left behind, he was supposed to run. But he didn't.

My heart was dead, and I was never supposed to belong to anyone. But Nate Preeter had me feeling, and he made me want to be his. He showed me everything I was missing.

And then he showed me how to fall.
You know when you read a book, and you get so excited over it, you want to run around shouting: Friends! Come! See what I have found! I must share this with you...immediately! That's me, in this moment. You know Tom Hanks in the movie Castaway? Remember when he struggled in frustration over and over attempting to make a fire when he gets marooned on the tropical island? And finally after many struggles he's produced a fire?


Then...

He has a caveman moment, beating his chest and proclaiming to the sky: "Look. See what I have made. Fire!"




That's pretty much me...minus the fire and plus the book.

This is my first book by Ginger Scott and I can say with absolute certainty that it won't be my last. I fell in intense like for this book and just couldn't give it anything other than a five star rating. Typically, I just don't do that with New Adult. Not because I have anything against it, but I went through a LONG stage where that was all I read. I feel like most college romances have the same basic principles and their variations are small. Have I read a similar plot to this one? Yes, I have. And I could still decisively, without a second thought give it this rating. I loved everything about it-the characters were....more. They have that special quality that make you want to meet them, laugh with them, and give them a hug. The story was touching. My emotions were up, down, sideways-all over the place. I can't remember the last time I smiled and laughed at a story so much. I developed some major character crushes.

Nate was...gah! I just loved that guy! He was such a sweetheart. He's not the campus bad boy manwhore like so many NA book Heroes are. He was a good guy with a good heart. When he was betrayed by his ex, he tried to do be the one night stand guy, but it felt empty and pointless.

My tour through the world of asshole-ness was brief-nope, not for me."

He was so patient, loving, and understanding of Rowe's struggles and fears caused by her awful history.




They meet in the dorm hallway and immediately, Nate wants to get to know her. And for the first time in two years, Rowe wants to get to know a guy-carefully. What I liked about this couple was that their relationship grew from friendship and their feelings grew from common interests and getting to know one another rather than just simply lust. They were both attracted, sure, but the more they learned about each other, the more they realized they fit like puzzle pieces.

Nate is the challenger I always wanted, and I like him more than I thought I did. I like him more than I should. And a little part of me is okay with that.

I LOVED their awesome bantering, their similar sense of humor, and the pranks they played on each other and their friends. I laughed out loud at seeing them try to embarrass each other and pull the best prank! After learning what happened to her, he lives to make her happy and slowly he sees the sadness falling from her eyes.




This story was beautifully done. I loved every part of it and I can't wait to read more from this author. I can't say enough how much I enjoyed it. The author did a wonderful job of crafting these characters-I loved the secondary characters equally as much. Nate's brother was hilarious and I can't wait to read his story next! When I finished this book, I think I had little hearts floating around my head and my heart was about melted into a little puddle. So, yeah, I liked it. Read it!

Please, Ginger, don't keep me waiting too long for You and Everything After-write fast!


FOLLOW SMOKIN HOT BOOK BLOG ON:


["br"]>["br"]>["br"]>["br"]>["br"]>["br"]>["br"]>["br"]>["br"]>["br"]>["br"]>["br"]>["br"]>["br"]>["br"]>["br"]>["br"]>["br"]>["br"]>["br"]>["br"]>["br"]>["br"]>["br"]>["br"]>["br"]>["br"]>["br"]>["br"]>["br"]>["br"]>["br"]>["br"]>["br"]>["br"]>["br"]>["br"]>["br"]>["br"]>["br"]>["br"]>["br"]>["br"]>["br"]>["br"]>["br"]>["br"]>["br"]>["br"]>["br"]>["br"]>["br"]>["br"]>["br"]>["br"]>["br"]>["br"]>["br"]>["br"]>["br"]>

View all my reviews