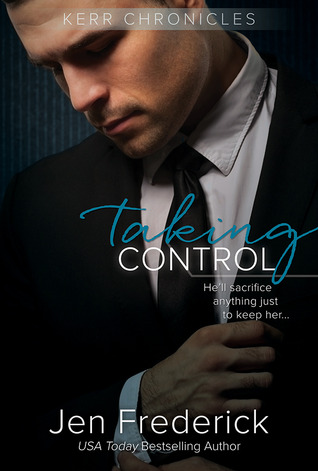 Title: Taking Control
Series: Kerr Chronicles #2
Author: Jen Frederick
Release Date: September 16, 2014
Rating: 4.5 stars
Cliffhanger: No
I thought I needed only one thing in my life--the money and power to crush one man. But the moment I laid eyes on Victoria Corielli, my thirst for revenge was replaced by my craving for her.

No rule would keep me away; no obstacle too large to overcome. Not her will, not our differing social positions, not my infamous past. When she lost everything, I helped her pick up the pieces. When she trusted me with everything, she sealed her fate.

I've convinced Victoria she can put her heart in my hands. Now I have to protect it--from her shady stepfather and my business rivals, from enemies known and hidden. I'll do anything to keep her. And I might have to prove it, because now Victoria''s risking more than her heart to be with me; she's risking her life.
After reading Losing Control, the first book in the series, it became my favorite JF book to date. So when I was able to get ahold of Taking Control, let's just say I was more than a little bit overcome with excitement.




But wait a minute, this book is about taking control...not losing it. So I got myself together.

Why do I love these books so much? Ian.

He's everything an alpha obsessed reader likes. Strong. Possessive. Protective. Obsessed. Devoted. And let's not forget, the man knows how to dirty talk like nobody's business.

...I'd pocket those wet panties and take them back to my office with me, and in the afternoon I'd replay our lunch date and jerk off into your panties until the fabric was heavy with the juices of your body and mine. Are you ready for me now?"




Oh...right. He's talking to Tiny...I knew that. Moving on.

We start off right where we left off in Losing Control. Ian and "Bunny" (as he likes to call her) have met, fallen hard, and his plans of revenge have run off track. She takes first priority over everything that he once held important in the past.




She's his. Completely. And he doesn't want anything from his enemy to tarnish her or what they have.

Tiny is the most important thing in my world. More important than revenge and retribution. Those things will only hold me back-or worse, they'll endanger the fragile future Tiny and I are building together.

He is just...perfection. As a man in his position, he wields power, immense wealth, and has a past that could cause harm to her but he does everything humanly possible to protect her from the danger. But there's one little problem. Tiny doesn't like handouts, she doesn't like charity, and she doesn't like being told what to do. She's independent, strong , and she's not intimidated by him or his take control personality. But his money and social status scares her and she has a lot of adjusting to do to get used to his lifestyle. And Ian isn't afraid to help her in that process.




She might not want my money, but she wants me. And I'm completely devoted to seeing that she is replete with satisfaction during every waking moment.

And fortunately for her, one of his favorite things about her is her ability to tell him like it is and stand up to him. Their personalities are perfect for each other.

I smile to myself. It's always a fight with her, but that's part of what I adore about Tiny Corielli. She doesn't give me even an inch.

And when the man isn't dirty talking, we're getting a peek into his dirty little mind. Because, yeah, this book is mainly in HIS POV (with the exception of one chapter). I was definitely ready to get inside that brain of his. And it didn't disappoint.

Everyone outside the office can hear, and it makes my blood pound even harder. I want to come all over her body. I'd rub it into every pore until she sweated me. Until everyone knew that she was mine. I want to be soaked into her essence until she can't breathe without knowing that I possess her.




Ian and Tiny have to resolve Ian's past in order to move on and get their HEA. He has a crisis with his company to hold off and Tiny has to find a balance and a place in his world.

I loved Ian's friend Kaga. He's loyal, funny, and he's always there for Ian and Bunny. He's the owner of the hottest club/bar in New York (among other things).




They return to the "Aquarium" and we get more insight into Kaga's history-which I must say has definitely intrigued me! I'm dying to know when we get his story!

This story is so well put together. Every part of it seamlessly done. It has passion, tenderness, obsession, love, revenge, a strong Hero AND heroine, and the ending was everything you could ask for. It's so easy to fall short with a second book and sometimes I tend to get bored with the plot. But in this case...there was one! And it was awesome! The only reason I deducted half a star is because as much as I loved this one, I debated whether it was as good as book 1, a five star read for me. And I think that book won by just a hair. This was an amazing book duo and they have a firm place on my favorites shelf.


**ARC generously provided by author in exchange for an honest review.**
FOLLOW SMOKIN HOT BOOK BLOG ON:


["br"]>["br"]>["br"]>["br"]>["br"]>["br"]>["br"]>["br"]>["br"]>["br"]>["br"]>["br"]>["br"]>["br"]>["br"]>["br"]>["br"]>["br"]>["br"]>["br"]>["br"]>["br"]>["br"]>["br"]>["br"]>["br"]>["br"]>["br"]>["br"]>["br"]>["br"]>["br"]>["br"]>["br"]>["br"]>["br"]>["br"]>["br"]>["br"]>["br"]>["br"]>["br"]>["br"]>["br"]>["br"]>["br"]>["br"]>["br"]>["br"]>["br"]>["br"]>["br"]>["br"]>["br"]>["br"]>["br"]>["br"]>["br"]>["br"]>["br"]>["br"]>["br"]>["br"]>["br"]>["br"]>["br"]>["br"]>["br"]>["br"]>["br"]>["br"]>["br"]>["br"]>["br"]>

View all my reviews