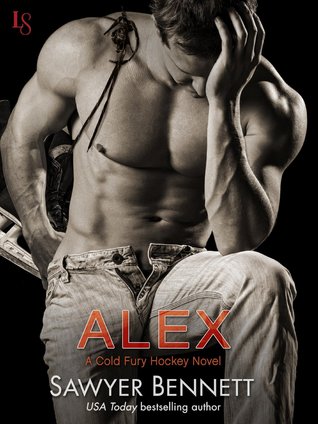 Title: Alex
Series: Cold Fury Hockey #1
Author: Sawyer Bennett
Release Date: October 14, 2014
Rating:3 stars
Cliffhanger: No
Hockey star Alexander Crossman has a reputation as a cold-hearted player on and off the rink. Pushed into the sport by an alcoholic father, Alex isn't afraid to give fans the proverbial middle finger, relishing his role as the MVP they love to hate. Management, however, isn't so amused. Now Alex has a choice: fix his public image through community service or ride the bench. But Alex refuses to be molded into the Carolina Cold Fury poster boy . . . not even by a tempting redhead with killer curves.

As a social worker, Sutton Price is accustomed to difficult people—like Alex, who's been assigned to help her create a drug-abuse awareness program for at-risk youth as part of the team's effort to clean up his image. What she doesn't expect is the arrogant smirk from his perfect lips to stir her most heated fantasies. But Sutton isn't one to cross professional boundaries—and besides, Alex doesn't do relationships . . . or does he? The more she sees behind Alex's bad-boy façade, the more Sutton craves the man she uncovers.
I've read several Sawyer Bennett books but the last couple I've read weren't bad...but they weren't great either. On top of that, this hero seemed like he was another rude and badly behaved guy and I think I'm all topped up at the moment on these types. I need a guy who doesnt have mommy/daddy issues, who doesn't act like a little bratty boy, and actually has the first clue how to act in a relationship with a woman. Is that too much to ask??




To be fair, it could just be my reading experience is being swayed for my own personal reasons...but I didn't end up loving this one. For a lot of the first part of the book I was actually enjoying it (and the hero) a LOT more than I thought I would. I was empathizing with him and his personality was more acceptable to me because of it. BUT...

The author was foreshadowing throughout the entire book that Alex is damaged and eventually he's going to screw up what they have. He thought it over and over. He flat out told Sutton. So it came as no surprise when, YES, he screwed up big time. Though I was expecting some epically bad behavior, I didn't like it. Not because he made a mistake-what he did didn't make sense. For me, it did not match with the character that had been built through the entire book. I couldn't for the life of me see why the author made him decide to do what he did when it went against everything he believed in up until that point. It just felt contrived and slipped in to add needed conflict and a climax at the end.




But I did give this three stars and that's because the majority of the book was decent, even if it didn't have that "wow" factor for me. I genuinely liked the heroine for the most part-there was a lot to like. She had a rough childhood which she rose above and her entire focus in life is helping others, doing the right thing, and making a difference. She's not interested in material things or impressed by status or wealth. She's loving, but her inner strength guides her and she isn't afraid or intimidated to speak her mind.

"I can deal with attitude," she says with a wink. "Makes things interesting."

And that pretty much makes her the perfect match for Alex.




Because he's got loads of attitude. He's been nicknamed "MVP: Most Valuable Prick" for his general bad attitude and surly expression 100% of the time. I thought starting out that I wouldn't like him but actually after learning what his childhood was like and what shaped his intense hatred for hockey and inability to get close to anyone, I understood him. And he didn't come off as mean, he seemed lost and scarred.

It's not my nature to apologize, having long ago convinced myself that all the wrongs in my world are not my fault. It was the only way I knew how to protect myself against the monstrosity that was my father-by laying all those wrongs on his doorstep.

So who better than Sutton, a drug counselor who has a pretty good understanding of hurting people, to break down his walls? Her ability too see right through his anger allows her to chip away at his armor and make him want more than he's ever wanted before with a woman.




Alex never had anyone in his corner and now that he had Sutton, even though he was scared that he would eventually hurt her, he couldn't find it in himself to sacrifice this peace he's found. There was a desperation in him to hang on to her-to bask in the comfort and support that she gives him that he's never had before. They had a great connection in the bedroom as well but Alex is unable to make himself vulnerable and show her a softer, intimate side. It's always fast, hard, and aggressive. And when she finally does make him recognize his feelings, that starts the beginning of his fear and doubts. How could this broken person ever be enough for her?




If it weren't for the WTH? moment at the end, I would have rated this higher. I loved how he got back together with her. I thought it was romantic and it was great to see him show her just how much she meant to him. But overall, I needed a little something more-more consistency in the characters and maybe Alex making the decision that he was better than his past a little sooner. I feel like this author has a fantastic writing style-she has the ability to make you care for her characters and make you want to read each new book in her series. But in this case, I wasn't as enthusiastic as I had hoped I would be.



FOLLOW SMOKIN HOT BOOK BLOG ON:


["br"]>["br"]>["br"]>["br"]>["br"]>["br"]>["br"]>["br"]>["br"]>["br"]>["br"]>["br"]>["br"]>["br"]>["br"]>["br"]>["br"]>["br"]>["br"]>["br"]>["br"]>["br"]>["br"]>["br"]>["br"]>["br"]>["br"]>["br"]>["br"]>["br"]>["br"]>["br"]>["br"]>["br"]>["br"]>["br"]>["br"]>["br"]>["br"]>["br"]>["br"]>["br"]>["br"]>["br"]>["br"]>["br"]>["br"]>["br"]>["br"]>["br"]>["br"]>["br"]>["br"]>["br"]>["br"]>

View all my reviews