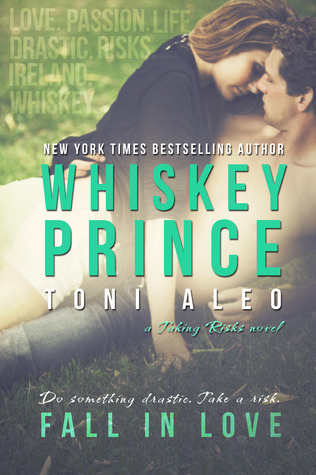 Title: Whiskey Prince
Series: Taking Risks #1
Author: Toni Aleo
Release Date: July 12, 2014
Rating: 3.5 stars
Cliffhanger: No
Take a risk.
Do something drastic.
Fall in love.

When Amberlyn Reilly loses her mother, her whole world comes crashing down. Having been caretaker to her for most of her teenage years, Amberlyn is inexperienced in many aspects of life. She hasn't had time to live, have fun, or enjoy even the little things. It's only when a letter from her mother, asking her to fulfill three things, sends her off to Ireland to live a life she never thought possible that she begins to heal.

Declan O'Callaghan was born and raised in Ireland and has his family's legendary whiskey in his veins. He's shy and not a fan of the pressure and spotlight that comes with his family name, or the title he was given at birth—the Whiskey Prince. Declan knows just what he wants and that is to take over the family dynasty, but when his father gives him an ultimatum, everything he's worked for could come undone in the blink of an eye.

With six months to get married, the reclusive Declan spots Amberlyn across a lake and instantly feels the need to know her. Soon, the two find themselves traveling down a path neither expected. However, like any road, there are bumps and side streets to derail them. Can Declan help find the pieces that will make Amberlyn whole again? And will Amberlyn stay or run when she learns of Declan's deadline of marriage?
When I think about how to describe this book one word keeps coming to mind every time:

Fairytale.


This word, above all others is the overall feel of the book. As well as, sweet, clean, and romantic. This is my first Toni Aleo book and while it was a little different than what I was expecting it to be, I thought it was written well and it was a fun read with a small bit of angst and some deep reflections thrown in. I found that the author found a way to balance the sadness and introspection with Amberlyn's positive and free spirited outlook on life. She's feeling lost, lonely, and without purpose, but she doesn't wallow in it. She picks herself up and chooses to move forward.

I have never just lived, and this is my chance. My chance to be me-Amberlyn Reilly. Not sure who that is, but I am excited to get to know her.

She focuses on honoring her mother's last wishes and finding happiness and turning a new page in her life. This is why she decides to move to Ireland for a year and seek adventure, hope, and new life experiences.



Declan is the town's "Whiskey Prince". He's a mini celebrity because his family has been in the Whiskey business for generations and produces one of the highest quality brands in the country. His family is scrutinized by the media and his family places a high importance on marriage. In fact, being married and running the business go hand in hand and at 21, Declan is behind everyone else as he's not even close to getting engaged. With his parents pressuring him to find someone immediately, or else he will lose his place with a future in the company, he decides then and there that he will do anything to keep from losing his dream. Even though the last thing he wants is a life connected to someone he has no true feelings or passion for.

It isn't easy being the Whiskey Prince. Not only does it draw attention to me, but it seems like everyone wants something from me.

I'm actually surprised how much I liked Declan. He's a lot different than the heroes I've been reading lately. He's a shy guy and pretty unsure of himself in the beginning. He's been sheltered and hasn't interacted much with people because of the intense scrutiny of the public that makes him uncomfortable. But after he pushes himself to face his fears, he was super sweet and quite the romantic guy. It's really nice for a change to read a hero that's not dominant, alpha, or controlling. He was just a regular guy trying to break out of the mold everyone's put him in and he was completely loving, adorable, and charming. He was also supportive in every way and very protective of her.

"This happens sometimes. I just lose it."
"And I'll be here to help you find the pieces and put you back together," I promise.




While I didn't love this book, I did like it. It's freshness and uplifting story grabbed my attention. It's lack of steam left a little something missing for me, but I'm a true romantic at heart and endearing characters and the lush setting were able to redeem the story for the most part. It was a true coming of age story about self discovery and a romantic love with two people who truly seem to be meant for each other. I will happily pick up the next book. While this doesn't end in a cliffhanger, there is more to the story to be told and I won't mind spending a little more time with this couple in the future.


FOLLOW SMOKIN HOT BOOK BLOG ON:


View all my reviews