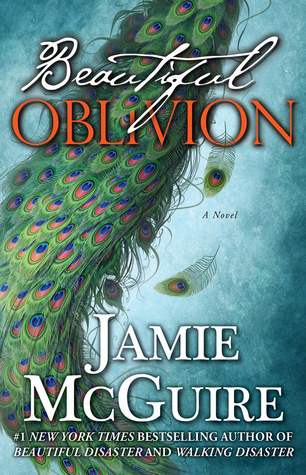 Title: Beautiful Oblivion
Series: Maddox Brothers #1
Author: Jamie McGuire
Release Date: July 1, 2014
Rating: 4.5 stars
Cliffhanger: No
The Beautiful Disaster and Walking Disaster phenomenon continues in the first heart-pounding new adult romance in The Maddox Brothers series.
Fiercely independent Camille "Cami" Camlin gladly moved on from her childhood before it was over. She has held down a job since before she could drive, and moved into her own apartment after her freshman year of college. Now tending bar at The Red Door, Cami doesn't have time for much else besides work and classes, until a trip to see her boyfriend is cancelled, leaving her with a first weekend off in almost a year.
Trenton Maddox was the king of Eastern State University, dating co-eds before he even graduated high school. His friends wanted to be him, and women wanted to tame him, but after a tragic accident turned his world upside down, Trenton leaves campus to come to grips with the crushing guilt.
Eighteen months later, Trenton is living at home with his widower father, and works full-time at a local tattoo parlor to help with the bills. Just when he thinks his life is returning to normal, he notices Cami sitting alone at a table at The Red.
As the baby sister of four rowdy brothers, Cami believes she'll have no problem keeping her new friendship with Trenton Maddox strictly platonic. But when a Maddox boy falls in love, he loves forever—even if she is the only reason their already broken family could fall apart.
[ Yes (hide spoiler)]

When I heard there was a new series with not one, but MULTIPLE Maddox stories, my mind was blown. In romance world, the name Maddox is synonymous with the best of the best. Travis is one of my all-time favorite BB's and I was all amped up for another shot of greatness. With all the hype and praise of Beautiful Disaster and everyone's intense love of Trav and his Pidge, there was bound to be lots of speculation on the next couple and their ability to measure up to the bar that was set. The big question is....was the bar set too high? The answer? Yes and no. Clearly, from my rating, you can see that I thought this book was great. I do think that expectations are too high though-like any follow up of an intensely loved book/series. People tend to micro compare every aspect of the books when it should be judged on it's own merits.

Now, let's just start with Trenton....




Was he everything I'd hoped...yes. I loved him. Tall, ripped, heavily inked, soulful brown eyes, and clearly one of the most caring of the brothers. Of course, he's a player but he's got a soft spot in his heart for one woman-always has.
With his looks, there's no shortage of opportunities to get his needs met, but after a tragedy in his past and the loss of his mother at an early age, he doesn't do deep. But from the first night he runs into Cami and spends some time with her, his sights are zeroed in on her and he's not going anywhere. They've known each other since they were kids but they were never friends. She was too smart to get caught up in his man-whoring ways. Now, getting to know her, he only wants to know more. This feisty, girl-next-door is strong, makes him laugh, and isn't afraid to speak her mind.

Some of my favorite one liners:

"Is your ass jealous of the amount of shit that comes out of your mouth?"

"I was sure you were tasting the douche water last night...now I know you're drinking it."

He likes her smart mouth. In fact, he pretty much likes everything about her-except the fact that she has a long distance boyfriend living in California that forces him to label their relationship "friends".

When I saw that she had a boyfriend, my heart dropped. I'm not a fan of cheating in books and I had a bad feeling in my gut. This had the potential to ruin the whole deal for me. I went back and forth throughout the book, undecided whether or not I accepted her behavior. Yeah, she acted a little shady, but she was in a huge state of denial over her feelings. She fought long and hard but the pull to Trenton was unrelenting.




She never crosses the line but she straddles it for quite a while. As much as she cared for her boyfriend T.J., not only is he living far away, but there is a mystery surrounding him, his involvement in her life, and his job. And until you figure out what that is, you will keep turning those pages until you get the answer. Guaranteed. I spent a large portion of the book scratching my head asking, "What is the deal here?" Why can't she talk about the circumstances of her relationship with him or his job? And honestly, even after turning the last page, I was still left with a couple of questions.

The back and forth with her denial of her feelings, and her confusion when his were anything but murky stirred up a lot of emotions and angst. I felt all the anxiety and want that these two had and I was yelling at her to just make her choice. When they do get together, I couldn't have asked for more. He's so clearly fallen for her and he truly cherishes and adores her. They make each other laugh, they're not only intensely attracted to each other, but they're friends-they get each other.




This was a great start to the spin-off series. The characters had the ability to make me feel. Frustration, happiness, sympathy, confusion, excitement...I felt it. And that is a sign of a good book. I wasn't always happy about certain decisions and actions, but if every character acted perfect all the time, wouldn't that be....boring? Trent's devotion to Cami was unyielding-I loved how sweet he was with her and how he protected her and supported her with her issues with her family. I loved their banter and their ability to make me laugh. I was already on board automatically to read this entire series, but now, my question is answered: the Maddox Magic is in the building. Bring on the next brother.


FOLLOW SMOKIN HOT BOOK BLOG ON:


["br"]>["br"]>["br"]>["br"]>["br"]>["br"]>["br"]>["br"]>["br"]>["br"]>["br"]>["br"]>["br"]>["br"]>["br"]>["br"]>["br"]>["br"]>["br"]>["br"]>["br"]>["br"]>["br"]>["br"]>["br"]>["br"]>["br"]>["br"]>["br"]>["br"]>["br"]>["br"]>["br"]>["br"]>["br"]>["br"]>["br"]>["br"]>["br"]>["br"]>["br"]>["br"]>["br"]>["br"]>["br"]>["br"]>["br"]>["br"]>["br"]>["br"]>["br"]>

View all my reviews