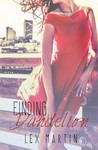 Title: Finding Dandelion (Dearest #2)
Series: Yes (Each can be read as standalone)
Author: Lex Martin
Release Date: July 11th, 2014
Rating: 4.5 "Out-Skanking" Stars
Cliffhanger: No
When soccer all-star Jax Avery collides with Dani Hart on his twenty-first birthday, their connection is instantaneous and explosive. For the first time in years, Jax isn't interested in his usual hit-it and quit-it approach.But Dani knows better. Allowing herself a night to be carefree and feel the intensity of their attraction won't change anything when it comes to dealing with a player. So when Jax doesn't recognize Dani the next time he sees her, it shouldn't be a total shock. The fact that he's her new roommate's brother? That's a shock.Dani doesn't regret that night with Jax, just the need to lie about it. Since her roommate has made it clear what she thinks about her brother's "type" of girl, the last thing Dani wants is to admit what happened.Jax knows he's walking a fine line on the soccer team. One more misstep and he's off the roster, his plans to go pro be damned. Except he can't seem to care. About anything… except for the one girl who keeps invading his dreams.Despite Jax's fuzzy memory of his hot hookup with his sister's friend, he can't stay away from her, even if it means breaking his own rules. But there are bigger forces at work–realities that can end Dani's college career and lies that can tear them apart.Jax realizes what he's losing if Dani walks away, but will he sacrifice his future to be with her? And will she let him if he does?FINDING DANDELION, the second book in the Dearest series, is a stand-alone novel. This New Adult romance is recommended for readers 18+ due to mature content
Jax Avery is handsome, he's rich and he can get any girl he wants. Girls want him and Boys applaud him. He's a budding soccer star, the next big thing. Toeing the line to keep his place on the team all he has to do is keep his nose clean and head in the game, except he doesn't seem to care.
Dani Hart is a hard worker, non risk taker, self confessed pushover and "All around nice girl" she's playing it safe and has a right future ahead of her, except she just feels lost.
Tired of feeling this way, she's decided this is going to be her "year of firsts" Armed with her new tattoo and to-do list to keep her on track, she's determined to "live without regret."
There first interaction is fleeting but the attraction is instant and try though he might not to care, he's mind can't help but wonder about her. She does the same, concentrating on school, on being a good friend, on anything that will keep her mind from wandering to all that is Jax. There second meeting is at a club where Jax is celebrating his Birthday, they have what I can only be described as a crazy, intense encounter and without revealing anything it really "kicks off" from there.
Jax did act like a Jack ass at times but actually I couldn't bring myself to be angry with him once parts of his story were revealed. A lot of his behaviours stem from past betrayals and underneath he doesn't consider himself worthy of Dani. I definitely think he more than proves his worth, he was there for Dani during some of her most difficult times and really comes into his own.
They both had a vulnerability to them which I found endearing and I'm not going to lie I teared up numerous times. The connection and intimacy they experienced was enviable, as a reader it nice to be on their journey as they both found home and something to care about in each other.
He stares long and hard into my eyes before he pulls my mouth to his for a gentle kiss, "We stay together." He holds my face with both of his hands. "Because you're what makes me want anything else."
This was such a wonderful story and had everything I look for in a good read. It was happy, sad, angsty, funny, sexy and I adored it! Am I hooked on this series?
~ARC kindly provided by the author in exchange for an honest review. Thank you.~
FOLLOW SMOKIN HOT BOOK BLOG ON:


View all my reviews