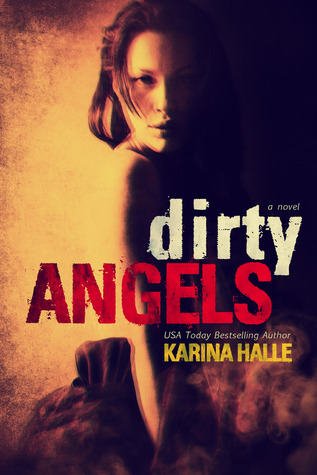 Title: Dirty Angels
Series: Dirty Angels #1
Author: Karina Halle
Release Date: June 2014
Rating: 3 stars
Cliffhanger:. No
For Luisa Chavez, a twenty-three year old former beauty queen, a better life has always been just out of her reach. Sure, she's had men at her feet since she was a young teenager but she's never had the one thing she's craved – security. Having grown up in near poverty, her waitressing job in Cabo San Lucas can barely let her take care of herself, let alone her ailing parents. Every day is another unwanted advance, every day is a struggle to survive.
When Salvador Reyes, the depraved leader of a major Mexican cartel, takes an interest in her, Luisa is presented with an opportunity she can't afford to pass up. She'll become Salvador's wife and exchange her freedom and body for a life of riches – riches she can bestow upon her deserving parents. But Luisa quickly finds out that even the finest wines and jewels can't undo the ugliness in her marriage, nor the never-ending violence that threatens her every move.
Soon, Luisa is looking for an escape, a way out of the carefully controlled life she's leading. She finally gets her wish in the worst way possible.
As it is, being the wife of Salvador makes her an ideal target for rival cartels and there's one particular man who needs Luisa as part of his cartel's expansion. One particular man whose quest for power has destroyed lives, slit throats and gotten him out of an American prison. One particular man who will stop at nothing until he gets what he wants. That man is Javier Bernal. And he wants Luisa. He wants to take her, keep her, ruin her. Unless she ruins him first.
[ Yes (hide spoiler)]
Dirty Angels is yet again book by Karina Halle that didn't exactly made my body hum with pleasure. In no means was it bad or boring, it just didn't offer me everything I hoped and wished for.
Maybe it's because even though I was a big fan of Artist Trilogy, I've never liked Javier Bernal. He didn't have the strength to catch my attention enough to make me crave his dirty mind. And while I know that he holds a lot of appeal it was lost on me. However, I just can't say no when Karina Halle's novel is screaming at me 'pick me up!'. So despite the fact I didn't appreciate Javier I dived into his story.
"I want to destroy beautiful things before they can destroy me."
Dirty Angels was definitely fast paced and intense. There were lots of great parts that made me bite my nails and had me go mad with fear. Yet, I was lost when somewhere around I realized that the villain Javier stopped existing. When the manipulative, evil Drug Lord stopped being so BAD around Luisa I was fuming. There where parts when I was having hard time even remembering why should I classify Dirty Angels as a suspense romance.
"I have a lot of respect for beautiful things, you know. They are usually the most dangerous."
The grittiness and bloodlust I craved wasn't exactly there; the whole plot lacked few things a name like Javier promised. I think it has something to do with me being not so in love with Javier and seeing him as worse person than he actually was, which in the end meant I was ready for him to be a huge villain once again. Here, in Dirty Angels, he actually was more considerate toward the main heroine.
"You must feel your soul is dirty then." He gave me a wry smile. "Oh, my darling. No," he said, opening the French doors for me. "I don't even have a soul."
I was also a tiny bit disappointed with the steam factor. There were only a few pretty hot scenes that I can remember. I wanted Javier to be a more of a freak in bed. Frankly, I expected more.
Although, I can't say I fell in love with this story, I also can't write that I didn't enjoy it. There were many things I liked. The possessiveness, the intense and full of violence world was definitely appealing to me. So, for every fan of Javier Bernal Dirty Angels would be a huge hit and I am sure lots of other readers will find him not only interesting but sexy, just like me. And though, I still am and will be forever TEAM CAMDEN, Javier (despite him being in light version) got few brownie points from me.
FOLLOW SMOKIN HOT BOOK BLOG ON: