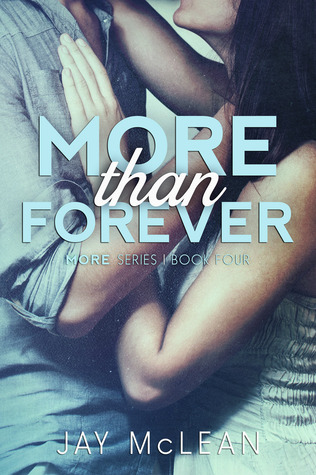 Title: More Than Forever
Series: More #4
Author: Jay McLean
Release Date: July 2014
Rating: 4.5 stars
Cliffhanger:. No
-LUCY-
There is a love so fierce it cannot be measured. A heart so strong it will never slow. There is a promise so sure it can never lie. He promised me that love forever. Even when it wasn't enough.
-CAMERON-
Forever. Everlasting. Eternal. There is no measure of time. No sounds of the ticking of a clock. Just the rising and falling of the sun. And our own sense of forever. But our forever isn't always.
[ Yes (hide spoiler)]
I fell in love with Jay Mclean's characters last summer. My adoration for them was instant. Seconds after meeting this bunch of funny and sweet teenagers I connected with them. From that point I knew I had to read every story McLean will write about them.
I really adored previous instalments of More series, but after reading about Cam and Lucy's breathtaking journey I have to say I'm not only in love with it but in awe with how beautiful it was.
"Because in a time of nothing but pain, and anger, and emptiness, and hurt....he healed me.
He made it stop.
He made it better.
He made me fall in love.
Love.
I love him."
With every new book in the More series, I was able to see glimpses of how perfect and how beautiful Cam and Lucy's relationship was. They always shined brightly and made everything just a little bit better, even though they were only secondary characters. Lucy's quirkiness and Cam's giving personality drew me in and made me want to know everything about them.
More Than Forever finally gave me the chance to learn absolutely every detail about their love; love they found while being only 15. Although, they relationship seemed to be very easy while I'd seen it through others eyes, the truth is that's not the case at all.
Lucy and Cam's story is full of up and downs; angst and sorrow, happiness and pain. It's a story about finding your soul mate and constantly fighting for it to stay that way.
There is so many wonderful things I loved in this story. The witty banter, laugh out loud moments, beautiful heart-to-heart conversations, irresistible characters and fabulous connection between two main heroes made More Than Forever beautiful read. It grabbed a hold of my heart and didn't let go till I turned off my ereader. It was heart wrenching story about finding your 'forever person' at only 15 and I loved every second of it.
"You can keep your two wishes, I'll just take the one. I want my girl, Lucy. My forever. And not just for our forever, but for eternity, and for always."
FOLLOW SMOKIN HOT BOOK BLOG ON: