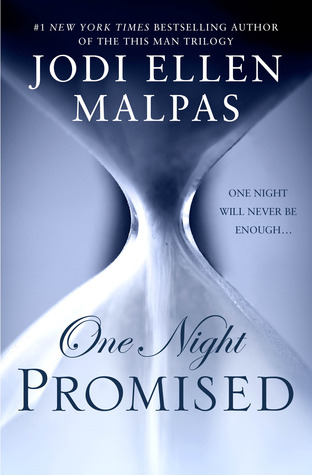 Title: Promised
Series: One Night #1
Author: Jodi Ellen Malpas
Release Date: July 17(UK) August 5, (US) 2014
Rating: 5 stars
Cliffhanger: Yes
Livy notices him the moment he walks into the coffee shop. He's heart-stoppingly stunning, with a blue-eyed gaze so piercing she's almost too distracted to take his order. When he walks out the door, she thinks she'll never see him again. Then she finds the note he left on his napkin . . . signed M.
All he wants is one night to worship her. No feelings, no commitment, nothing but pleasure. Every defense mechanism Livy has adopted during her solitary life is at risk of being obliterated by this confounding man. He's obnoxious but well-mannered. He's a gentleman but aloof. He's passionate but emotionless. Yet the fascination is so powerful, Livy can't deny him... or herself.
M awakens something in Livy, something deep and addictive that she never knew existed -- and that she fears only he can satisfy. But she senses that behind the fast cars, fancy suits, and posh apartment, he's aching inside. To have him, body and soul, she'll have to brave his dark secrets. Delving into his world and breaking down his defenses become her obsession - an obsession that could shatter her heart beyond repair..
[ Yes (hide spoiler)]


Five Worshiping and Cuddling stars!!
In this stunning follow up to the much acclaimed This Man series we get what every reader hopes to find. Complex characters and a plot with passion, intrigue, and it will only leave you wanting more. Many fans of the previous series are hoping and expecting greatness and every emotion felt while reading Jesse and Ava's story. Some will be disappointed. These characters are not carbon copies but they are individually unique. They breathe with a life of their own and personally, I loved how different they were. As loved as Jesse was, let's face it...he was an Alpha hero on steroids. People who weren't too crazy about his over-the top craziness will find more to like here. One thing that hasn't changed however, is the author's ability to grab you and hold you hard while you completely immerse yourself in the world that she crafts. I could not put this book down! I started it the second I got the e-mail with my ARC, and didn't put it down until my eyes wouldn't stay open any longer.

If you met a man, a man who's powerful, beautiful yet enigmatic and abrupt, a man who can look in your eyes and seems to see right down into your soul…could you give him one night and never look back? M is drawing her in, like a bee to honey and all the self respect and willpower she has is put to the test.




She's always played it safe, always done what's right, but when the mysterious M walks into the coffee shop where she works, she's left wondering, would she throw caution to the wind for this man? Not that she thinks that could ever happen. They're from totally different worlds and she doesn't see them ever having the opportunity to cross paths again. She was wrong.

Livy lives for simplicity, always doing the right thing and taking the safe path. She's inherited her mother's beauty and that beauty was her mother's downfall. But this intoxicating man is tempting her beyond reason. With every interaction with him, she only finds herself getting drawn in closer, despite her knowledge of one absolute truth: this man could ruin her.

I'm getting into unknown territory-dangerous territory. after my years of avoiding all men, even the decent ones, I'm finding myself encouraging one who looks like he should definitely be left alone.

M offers her one night. One night of untold pleasures but nothing more. That's all he has to offer and as much as she wants him, that's not good enough. He seems harsh, but at the same time, you can see his deep vulnerability and wonder at what hides behind it. He almost seems to need Livy-her sweetness and pureness are so alluring to him.

"You're knocking me sideways, Olivia Taylor," he murmurs, claiming my lips gently. "You're making me question everything I thought I knew."

Livy can't hold off forever, because, let's face it, not many could. They both get sucked into this whirlwind that neither has expected but neither can refuse.




The chemistry was amazing. Passionate, sensual and intense. M has two demands: he needs to worship her slowly, and he needs cuddling. *SWOON* How perfect is that? He's demanding, he's got a dirty mouth, and he's focused on one thing: Livy. I loved how aggressive he was at times, and others he was completely sweet and needy with her. She gives him more than just the physical. She makes him hope, she makes him happy, and she makes all the bad go away in her arms.




He demands everything from her. Every piece of her. But he can't give the same in return. He's secretive and has some odd idiosyncrasies that are worrisome. And Livy....she has her own mysteries to be solved.

I loved this book! It kept me guessing, it was exciting, fast paced, and got my heart pounding. Everything a great book should be. Yes, there is a cliffhanger, however that should be expected with a three part book series. Although I'm never a fan of those, the ending was a shocker. I cannot wait to read the continuation in the next book.

I was so thankful for the privilege of getting an advanced copy-I'm not ashamed to say I begged anyone who would listen to have mercy on me and send me one. Thank you Jodi and Siobhan!


FOLLOW SMOKIN HOT BOOK BLOG ON:


["br"]>["br"]>["br"]>["br"]>["br"]>["br"]>["br"]>["br"]>["br"]>["br"]>["br"]>["br"]>["br"]>["br"]>["br"]>["br"]>["br"]>["br"]>["br"]>["br"]>["br"]>["br"]>["br"]>["br"]>["br"]>["br"]>["br"]>["br"]>["br"]>["br"]>["br"]>["br"]>["br"]>["br"]>["br"]>["br"]>["br"]>["br"]>["br"]>["br"]>["br"]>["br"]>["br"]>["br"]>["br"]>["br"]>["br"]>["br"]>["br"]>["br"]>["br"]>["br"]>["br"]>["br"]>

View all my reviews